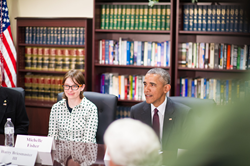 We're always asking listeners to do what they can for the environment and now, with this project, it's our turn to walk that walk.
Salt Lake City, Utah (PRWEB) June 01, 2015
Salt Lake Community College students of solar design will compete Tuesday, June 2, 6 p.m., at KRCL-FM 90.9 to see which of four SLCC teams will help KRCL become Utah's first radio station powered completely by renewable energy.
"We're always asking listeners to do what they can for the environment and now, with this project, it's our turn to walk that walk," said KRCL General Manager Vicki Mann, who noted the project will be funded in part by grants from UCAIR and Rocky Mountain Power. However, she said, "this is no academic exercise; it's a real-world project that we expect will reduce, if not eliminate, KRCL's carbon footprint."
Using equal grant-funded budgets, the student teams will have 15 minutes each to present their ideas Tuesday evening. KRCL will select the winning design, then turn the project over to Brok Thayn of Hunt Electric to build with students in his SLCC solar design class. The Hunt Electric team has been involved from day one in providing industry guidance and direction to the SLCC students. Hunt Electric Solar team will be overseeing the design and construction of this project.
One of the presenting teams includes SLCC solar tech student Michelle Fisher, a military veteran who recently met with President Barack Obama at Hill Air Force Base to discuss solar energy and SLCC's vital role in educating people for jobs in the solar industry. SLCC has been offering solar training since 2009 and was singled out during the President's visit as the leader in the Rocky Mountain Region of the national network. The Rocky Mountain Solar Training Provider network includes 14 states, eight of which are active within the network.
Members of the winning team will be able to expedite their NABCEP (North American Board of Certified Energy Practitioners) certification and thereby give them a "leg up" in their careers.
KRCL is located at 1971 W. North Temple, Salt Lake City. For local media needing directions: Head west on North Temple. Turn left (south) at the light at 1950 West. You'll think you're headed into Diamond Parking's pay lot, but take the first right once crossing into their driveway. You'll see a bright yellow sign for "The Dog Park" on a pole as you turn right (west) toward the strip of buildings just to the west of Diamond Parking. Then turn left (south again) and head to the back of the lot, which is where we are. There's a big KRCL sign in front of our building.
About Salt Lake Community College:
Salt Lake Community College is an accredited, student-focused, urban college meeting the diverse needs of the Salt Lake community. Home to more than 60,000 students each year, the College is Utah's leading provider of workforce development programs. SLCC is also the largest supplier of transfer students to Utah's four-year institutions and a perennial Top 10 college nationally for total associate degrees awarded. The College is the sole provider of applied technology courses in the Salt Lake area, with multiple locations, an eCampus, and nearly 1,000 continuing education sites located throughout the Salt Lake Valley. Personal attention from an excellent faculty is paramount at the College, which maintains an average class size of 20.
About Listeners Community Radio KRCL-90.9 FM:
Established in 1979 as Listeners Community Radio of Utah, KRCL-FM 90.9 is northern Utah's only non-profit, member-supported public radio station dedicated to broadcasting a well-curated contemporary eclectic mix of music and community information 24-hours-a-day.
About Hunt Electric:
Hunt Electric is a full service design-build electrical and solar contractor that has served the Intermountain area for over 29 years. The company is committed to renewable energy and sustainable business practices. Hunt Electric Solar Division worked to date on a total of 194,000 solar panel installation, of which over half have been designed by the Hunt Electric design team. For more information, visit HuntElectric.com.