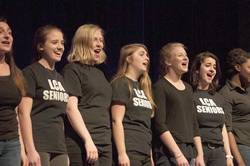 This year 2 of our graduates will attend Rhode Island School of Design and The School of the Art Institute of Chicago. Another senior has earned a full scholarship to the Music Conservatory at DePauw University in Indiana.
Lexington, MA (PRWEB) June 03, 2015
The LCA community gathered recently to celebrate its strong commitment to theater, music, and visual arts. "LCA is an extremely creative place to learn, experiment, and grow," said Head of School Tim Russell. "Every day our students engage with the arts through drama, voice, strings and wind ensembles, painting, drawing, stained glass and ceramics. Artsfest is an extraordinary night of celebration for the many ways creativity develops all year long here at LCA."
LCA students showcased original musical compositions and experimental theater scenes, playing to a full house in The Cross Center, LCA's 430-seat performance auditorium. "We celebrate our students' accomplishments every day," said Mr. Russell, "but Artsfest is a time to bring all kinds of talent together for one exceptional night of shared performance and exhibition."
"This is always a full season for our musicians," explains Chorale Director, Mary Bulger. "We've just come off of our annual Chamber Singers Tour where we spent four days performing at colleges and churches from here to Niagara Falls and in-between. Next up we performed Pirates of Penzance with double casts of over 60 students involved. Our students performed with a full orchestra of professional musicians from the Boston Pops, Boston Ballet, and Boston Opera. It's been a very exciting season!"
LCA's Artsfest is an annual presentation that features talented students from 6th through 12th grades. AP Portfolio, Advanced Portfolio, and other arts students also have the opportunity to display their visual work in LCA's professional quality gallery space. Students help to hang the shows, conceive of themes, and determine how to best display their work.
More and more, LCA is becoming well-known for its excellent preparatory experiences for young artists. "This year 2 of our graduates will attend Rhode Island School of Design and The School of the Art Institute of Chicago. Another senior has earned a full scholarship to the Music Conservatory at DePauw University in Indiana," said Director of College Advising, Ms. Kate Young. "Our students are being accepted to top programs all over the country and that's really satisfying to our faculty. We love seeing them grow into new opportunities."