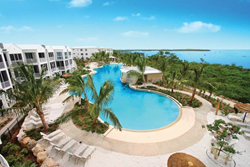 Key Largo, FL (PRWEB) June 02, 2015
KeysCaribbean Luxury Resort Villas & Marinas salutes four unique Florida Keys events in June and offers three compelling reasons to enjoy a summertime escape to the Keys.
"The Longer You Stay in Paradise, The More You Save" special discount offers a lower nightly rate for each additional day booked, and guests can receive generous rates of up to 50 percent off, or complimentary night stays at all KeysCaribbean luxury resorts all season. There is also an advance booking special that requires no deposit until two weeks prior to arrival date; plus a 100 percent cancellation guarantee.
Visitors to the Florida Keys in June will find such signature events as a pride festival, a fun fishing tournament with cash prizes, another fishing tournament featuring sports stars from the University of Miami, and a free class providing instruction in identifying fish found in the waters of the Florida Keys.
From June 10-14, Key West plays host to Key West Pride, a five day festival celebrating gay pride. Events include daytime pool and beach parties, late-night drag shows, on-the-water adventures ranging from snorkeling and kayaking to glass-bottom boat tours, a street fair, a 10K relay for tutu-wearing runners and walkers, and pageants to select Mr., Miss and Ms. Key West Pride.
The Dolphin & Blackfin Tuna Fun Fishing Tournament June 16-17 in Marathon offers top prizes of $700, $350 and $200 to individual adult anglers who catch the tournament's three heaviest dolphin. Additional cash awards are available for the heaviest blackfin tuna and wahoo. The 15th annual challenge also is open to junior anglers. Nearby, Coral Lagoon Resort Villas & Marina and Indigo Reef Resort Villas & Marina in Marathon, and Village at Hawks Cay Villas & Marina in Duck Key, offer luxury Florida Keys accommodations with free Wi-Fi Internet and free unlimited local and long distance calls. The resorts also offer the up to 50 percent special discount. Guests can also receive a complimentary night with a minimum stay of three nights at Village at Hawks Cay or five nights at Coral Lagoon or Indigo Reef.
For nature enthusiasts looking to improve their fish identifying skills, a Free Fish I.D. Class with Keys underwater photographers will be held June 18 in Key Largo. The interactive fish behavior and I.D. class, held at REEF Headquarters, will teach participants how to identify fish found in the Florida Keys. Class members can become citizen scientists by participating in REEF's Volunteer Fish Survey Project where divers and snorkelers add their Fish I.D. Surveys to REEF's database, which is used by scientists around the world. Class attendees can enjoy luxury Key Largo accommodations at Mariner's Resort Villas & Marina, including courtesy Wi-Fi Internet and unlimited local and long distance calls. There is also an up-to-50-percent-off special discount and every fourth night is on-the-house with a minimum three night stay.
Fans of the Miami Hurricanes can fish with some of their favorite Hurricane all-stars during the fifth annual University of Miami Sports Hall of Fame Celebrity Dolphin Tournament June 26-27 in Islamorada. This is the only fishing event of its kind that matches participants with former Miami Hurricanes sports stars for the competition. Event proceeds benefit Habitat for Humanity of the Upper Keys, The Buoniconti Fund, and the University of Miami Sports Hall of Fame. Tournament participants can enjoy fine Islamorada accommodations at Angler's Reef Resort Villas & Marina, which offers all the amenities of a classic-sport fishing resort.
"With summer in full swing, visitors to the Florida Keys have many great events to experience, all while taking advantage of our great deals, including our special discount of up to 50 percent off our normal rates, as well as our complimentary night stay packages and advance booking rate," said Sam Schorr, KeysCaribbean managing director.
Discounts are subject to availability. Some restrictions apply to the 100 percent cancellation guarantee. To receive the advance booking special, booking must be made a minimum of 30 days prior to arrival date. Complimentary night stays require minimum night stays, have limited availability and certain restrictions apply. Please see the KeysCaribbean website for more details. For reservations book direct at http://www.keyscaribbean.com or call 305.853.5000.
About KeysCaribbean
KeysCaribbean is a dynamic, boutique resort company specializing in operating Florida Keys resort villas and marinas from Key Largo to Key West. CEO Craig Hunt, the former vice chairman of Intercontinental Hotel Group and past president of Holiday Inn Worldwide, along with managing director Sam Schorr, possess more than 60 years of experience in operating and marketing unique and exclusive destination resorts and marinas.
KeysCaribbean is committed to the Florida Department of Environmental Protection Green Lodging Florida program. Mariner's Resort Villas & Marina is designated as a Green Lodging property by the Florida Green Lodging Program.
Media Contact: Nancy Glasgow, 407-290-1060 ext. 104