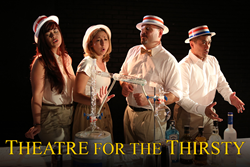 Four Stars and Critics' Pick!
New York, NY (PRWEB) June 02, 2015
Beginning June 7th, "The Imbible: A Spirited History of Drinking" will be performed on Hornblower New York's Alive After Five Cruise on Sundays for four weeks – with the cast that made it famous Off-Broadway. "The Imbible: A Spirited History of Drinking," is an Off-Broadway show that tells the history of spirits and cocktails through music, comedy and cocktails. The New York Times declared The Imbible was "the best Fringe deal." "Remarkably compelling." raves Time Out New York, giving the show four stars and a Critic's Pick. The Huffington Post proclaims The Imbible "an absolute must-see."
The second show, "The Imbible: Rum Shanties and Pirate Drinks," also created by world-renown mixologist, spirits educator, and author Anthony Caporale exclusively for multi-award-winning Hornblower Cruise Lines tells the story of rum from the origins of the Triangular Trade in Africa, through sugar production on Caribbean plantations, right up to the modern-day rediscovery of New England's pivotal role in the spirit's checkered past -- all through The Imbible's signature blend of science, history, and some of the best drinks in New York. Traditional African music, Caribbean folk songs, authentic sea shanties, and more pirates than you can shake a sabre at transform your Happy Hour cruise into an evening of entertainment and adventure you and your guests will never forget. Don't miss this chance to see Off-Broadway on the East River in "The Imbible: Rum Shanties and Pirate Drinks."
"The Imbible: Rum Shanties and Pirate Drinks" launches the week of July 2nd and run Thursdays and Sundays thru Labor Day weekend. Tickets can be purchased at http://hornblowernewyork.com/imbible-aboard-alive-after-five/. The Alive after Five cruise can be picked up at Pier 15 at the South Street Seaport. Cruising from 5 – 8pm and show runs 90 minutes from 6 – 7:30pm.
###
About The Imbible
The drinks are on us as you join world-renowned mixologist and raconteur Anthony Caporale for a boozy romp through the history of spirits and cocktails in this critically-acclaimed, smash-hit comedy with drinks and music – tickets include 3 cocktails. For more information go to http://www.imbible.org.
About Hornblower Cruises & Events
Hornblower Cruises & Events has been the leading charter yacht and public dining cruise company in the United States for over 32 years. The company has operates yachts in San Francisco, Berkeley, Sacramento, Long Beach, Newport Beach, Marina Del Rey, San Diego and New York City. Since 2012, Hornblower New York has offered private event charters, dinner and brunch cruises from Pier 40 in the West Village. In March 2014, the company expanded to Pier 15 at the South Street Seaport, where it operates happy hour & entertainment cruises and daily sightseeing tours. Hornblower creates amazing experiences with unparalleled elegance aboard New York's premier fleet of luxury yachts. Step aboard today. To learn more please visit: http://www.hornblowernewyork.com.