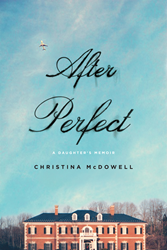 "I hate to be the bearer of bad news, dear Kings of Hollywood, but you have been conned." -Christina McDowell, open letter in LA Weekly
New York, NY (PRWEB) June 02, 2015
In the tradition of New York Times bestsellers What Remains by Carole Radziwill and Oh the Glory of It All by Sean Wilsey, Christina McDowell's unflinching debut memoir, AFTER PERFECT (Gallery Books; on-sale June 2, 2015; $25.00; Hardcover; also available as ebook) is a brutally honest, cautionary tale about one family's destruction in the wake of the Wall Street implosion.
Christina McDowell was born Christina Prousalis. After her father, Tom Prousalis, was arrested and imprisoned in the wake of the conviction of Jordan Belfort (the "Wolf of Wall Street") she had to change her name to be legally extricated from the trail of chaos that followed. Christina worshipped her father and the seemingly perfect life they lived. Her family, like many other families unwittingly caught up in the Wall Street Implosion, had no idea that their lives were built on a foundation of lies. It was nineteen-year-old Christina who had to drive her father to prison while her mother dissolved in denial.
As her family floundered in rehab, depression, homelessness, and loss, Christina succumbed to the grips of alcohol, drugs, and promiscuity before finding catharsis in the most unlikely of places - advocacy. From the bucolic affluence of suburban Washington, DC, to the A-list clubs and seedy underbelly of Los Angeles, this provocative memoir unflinchingly describes the harsh realities of a fall from grace. Full of nineties nostalgia and access to the inner circles of the Washingtonian societal elite, Christina McDowell's beautiful memoir is a Blue Jasmine story told from a daughter's perspective.
Christina's Twitter: @mcdowell1016
To interview Christina please contact:
Elena Stokes, 917-887-0784, elena(at)wunderkind-pr.com
Tanya Farrell, 646-450-8030, tanya(at)wunderkind-pr.com