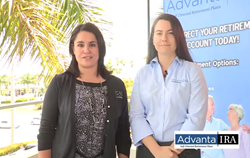 "The short video that we created is a great resource for investors looking to learn more information about self-directed IRA real estate investing"
(PRWEB) June 03, 2015
AdvantaIRA Trust released a video last week on investing in real estate using a self-directed IRA that went viral. The short 5 minute professionally filmed video had an outstanding amount of views after being released.
Investing in real estate using a self-directed IRA has become a popular alternative investment. Being that there is over an estimated 7 trillion dollars in IRA accounts there is a lot of cash to be invested in real estate. AdvantaIRA Trust had a video professionally created that discusses the benefits to real estate IRA investing, the rules, and the steps to get started.
Funds inside self-directed plans are tax-sheltered. All income and expenses flow directly into and out of the IRA. Income is earned tax-free or tax-deferred, depending on the account type. This includes all of the sale proceeds and rental income, which the client can later use towards a larger or more income producing property. A self-directed IRA is also a great alternative source of cash for investors lacking enough personal funds. Investors can purchase a percentage of the property using retirement account funds and a percentage from personal funds. This not only gives the investor a way to acquire the property, but it is also a great way to start building retirement savings.
Any self-directed retirement plan qualifies to hold real estate as an asset. This includes traditional, Roth, SEP, SIMPLE, and qualified plans such as a 401(k). Permissible investments include single-family homes, multi-family homes, apartments and condominiums, commercial property, foreign property, and improved or unimproved land. Some of the most popular ways to obtain the asset is by cash purchase, partnering funds, and / or borrowing money using a non-recourse loan.
As with any investment there are rules as to persons or entities a self-directed IRA can do business with. This is an investment property, not a primary, secondary, or vacation home. A retirement plan cannot do business with the plan owner or any of his or her lineal ascendants or descendants. All expenses, such as the property tax bill, must be paid using the IRA funds. All income and sale proceeds must be deposited back into the plan. This ensures that the IRA funds continually reap the benefits of a tax-sheltered account.
"The short video that we created is a great resource for investors looking to learn more information about self-directed IRA real estate investing" says Dave Owens, managing partner of AdvantaIRA Trust. The video can be found at http://bit.ly/RealEstateIRAs. You may also call the self-directed IRA administrator at 239-333-1032 to request a free copy of the video.
About AdvantaIRA Trust
AdvantaIRA Trust is a self-directed IRA administrator that provides tax-deferred and tax-free investment opportunities, superior customer service, and educational tools to assist investors in realizing the maximum benefits possible within IRAs. AdvantaIRA makes it easy to use self-directed retirement plans to invest in assets that the individual investor knows, understands, and can control.
About Dave Owens
Dave Owens is the managing partner at AdvantaIRA Trust in Fort Myers, Miami, Gainesville, New England, and the Florida Panhandle. Owens opened the AdvantaIRA Trust headquarters in Fort Myers, FL in 2003. His background as a certified public accountant, combined with a long history of personal retirement self-direction, provides his audiences and clients with solid advice and practical solutions to their IRA investment questions. Dave holds a BS in accounting from Purdue University. He also earned the prestigious Certified Exchange Specialist designation through the Federation of Exchange Accommodators.