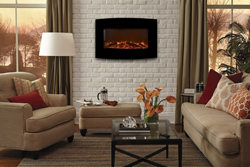 The Yardley Electric Fireplace offers the most realistic 3D flame technology. The option to install on a wall or place on top of a flat surface meets our customers' varied needs.
Philadelphia, PA (PRWEB) June 03, 2015
Touchstone Home Products, Inc. adds the new 36-inch wide Yardley Electric Fireplace to its collection of wall mount, flush mount and standalone electric fireplaces. The versatile Yardley Electric Fireplace includes a metal stand and a wall-mounting bracket, so it can be used as a standalone fireplace or a wall mounted fireplace. The Yardley Electric Fireplace can be placed atop a dresser, cabinet or hearth or it can be hung on a wall.
The Touchstone Yardley Electric Fireplace features a curved front display, offering a wide 3D view of the realistic looking flames and log base. From gentle burning embers to a roaring fire, the true-to-life LED flame display has five flame settings and two heat settings. The heat and flame settings work independently, so the flame effect can be enjoyed without heat when desired.
The energy efficient Yardley Electric Fireplace heats a room up to 400 square feet. The Yardley model offers the ambiance of a wood-burning fireplace without the added expense or maintenance. Ideal for use around young children or pets, the smoke-free Yardley Electric Fireplace is cool to the touch. No need for venting, the Yardley Electric Fireplace can be positioned anywhere in the home including the bedroom, kitchen, bathroom or finished basement.
"We've had a lot of requests for a small, standalone electric fireplace and the new 36-inch Yardley model fits the bill," explains Frank Quinlisk, Vice President of Touchstone Home Products. "The Yardley Electric Fireplace offers the most realistic 3D flame technology. The option to install on a wall or place on top of a flat surface meets our customers' varied needs."
The plug-and-play Yardley Electric Fireplace is easy to install. The included wall mounting bracket ensures level wall placement. For those who want a standalone electric fireplace, the included matching metal stand secures and stabilizes the unit on a flat surface.
"With the Yardley Electric Fireplace, you can enjoy a cozy fire in minutes. Simply unpack and plug into the nearest outlet. You'll never have to haul in wood, clean ashes or smell like smoke again," says Quinlisk.
Learn more about the Yardley 36-inch Electric Fireplace at TouchstoneHomeProducts.com.
Yardley Electric Fireplace Specifications:

2 heat settings (high and low)
Wall mounting brackets included
Mounting Stand
Remote control for heat and flame setting (batteries not included)
Dual mode, operates with or without heat for only flame effect
Built in timer mode for shut off in 30 minutes to 7.5 hours.
Frame color: Black
Fireplace dimensions: 35.5" W x 22" H x 5.75" W
Firebox dimensions: 27.25" W x 20" H x 5.5" D
Viewing dimensions: 24.25" W x 10.5" H
Shipping carton dimensions: 39 in. x 10 in. x 27.5 in
Part number: 80010
Watts: 1,500
BTU's: 5,118
Room Coverage: 400 ft.
Fireplace Weight: 45 pounds
Shipping Weight: 50 pounds
Voltage: 120v
Amperes: 11 and up
About Touchstone Home Products
Touchstone Home Products is a leader and pioneer in the design and manufacturing of Theater Lift cabinets, mechanical TV lifts and wall mounted electric fireplaces. Founded in 2005, Touchstone offers cabinets in contemporary, traditional, and transitional styles to fit seamlessly in almost any home. Touchstone TV lift cabinets and electric fireplaces maximize space, enhance in-home entertainment and provide a unique experience to any room in the house. Touchstone's TV lift mechanisms are industry leaders in value priced quality.