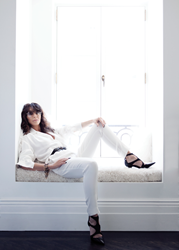 Van Nuys, CA (PRWEB) June 02, 2015
International Checkout Inc. today announced its partnership with acclaimed designer, Tamara Mellon, to expand the brand's ecommerce reach beyond US borders.
Customers in every corner of the globe can now shop the Tamara Mellon collection and enjoy a localized checkout experience with efficient delivery to their doorsteps. International Checkout supports localized payments in 63 currencies and an array of convenient payment options. Streamlined order management from A-Z and world class customer support round out the user experience.
"Our number one priority in introducing the Tamara Mellon brand to online shoppers internationally has been ensuring a shopping experience that meets the high expectations of our clients," says Andrew Fry, Director of Global Communications for Tamara Mellon. "By joining forces with International Checkout, we feel confident that we have found a solution that will enable us to build our brand globally."
Access to shoppers outside of the US is made easy with International Checkout. By assuming all fraud risk and handling international payments, logistics, customs clearance, customer service and returns management, International Checkout removes the hurdles that often prevent US retailers from entering the global marketplace.
Kathy Beteta, Executive VP of International Checkout says, "It is a pleasure to bring the acclaimed Tamara Mellon brand beyond borders, enabling access to online shoppers that previously were unable to acquire the designer's sought after wares. Grateful customers from around the globe, including the UK, China and Egypt, have already been taking advantage of the opportunity to own a piece – or pieces - of the Tamara Mellon brand."
About Tamara Mellon:
Tamara Mellon was born and raised in London. After serving as Accessories Editor at British Vogue, Mellon co-founded Jimmy Choo and served as CEO and CCO. In 2010, she was appointed as Ambassador for International Trade and honored by Queen Elizabeth II with an OBE for service to the fashion industry. Mellon left Jimmy Choo once it was purchased by Labelux in 2011. Two years later Mellon announced the creation of the TAMARA MELLON brand, a luxury lifestyle brand.
About International Checkout:
International Checkout President and CEO, Saskia Chiesa, is a Holland native who enjoyed great success as one of Europe's top fashion models, gracing the pages of publications such as Vogue, Cosmopolitan, Marie Claire, and the acclaimed Pirelli calendar. When she later settled in Los Angeles, Saskia was aware of the demand overseas for U.S. products, particularly fashion brands, and created a solution to bridge the gap between U.S. retailers and international consumers.
Today, International Checkout Inc. (IC) is the must have global e-commerce solution for U.S. brands. By eliminating the risks associated with international payment and fulfillment, IC enables its clients to gain access to consumers worldwide with ease. IC currently works with more than 1500 U.S. brands and retailers, providing world class service to more than 200 destinations and supporting 63 local currencies.