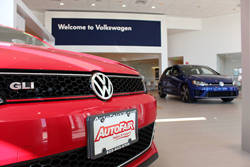 "We are excited and honored to be officially celebrating our new complex in Merrimack with our new AutoFair Volkswagen location."
Manchester, NH (PRWEB) June 01, 2015
Michael Horn, President & CEO of VW Group of America will be attending the Ribbon Cutting and Grand Opening of the all new AutoFair Volkswagen of Nashua. The Official Ribbon Cutting for the Grand Opening of AutoFair Volkswagen of Nashua is scheduled for Tuesday, June 2nd at 5:30pm in Merrimack. The new, state-of-the-art facility is located at 717 New Hampshire 101A on 4-acres in Merrimack. AutoFair Volkswagen is now one of the largest VW dealerships on the east coast. The latest AutoFair complex also employs high efficiency LED lighting and has 12 state of the art service bays. In addition to Michael Horn, the event will be attended by AutoFair CEO Andy Crews, AutoFair Volkswagen General Manager Jared Saunders and many state and local government officials as well as business leaders from the community.
AutoFair Automotive Group purchased the Volkswagen dealership in 2012. The acquisition of the VW store marked the most southern New Hampshire location for AutoFair Automotive Group with headquarters in Manchester. AutoFair recently opened or acquired new dealerships in Haverhill, MA, Plymouth, MA, Tewksbury, MA and Stratham, NH.
"We are excited and honored to be officially celebrating our new complex in Merrimack with our new AutoFair Volkswagen location," said Andy Crews, CEO of AutoFair. "We believe Merrimack and Nashua are vibrant consumer areas and we will be offering customers the very best in VW specialty service equipment from one of the largest VW dealers on the east coast. Volkswagen is an exciting brand to be adding to our family of AutoFair dealerships."
About AutoFair- The AutoFair Automotive Group has been recognized nationally for its Green Energy practices which include LED lighting, building materials, heating and cooling efficiencies and Green cleaning products- all of which help reduce the environmental impact of the operation. AutoFair CEO Andy Crews was recently named Time Magazine's 2015 Dealer of the Year. Go to http://www.autofairvw.com for complete details.