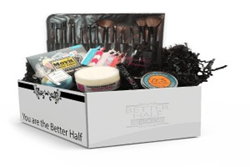 Naples, FL (PRWEB) June 18, 2015
Uniquely designed subscription box service Better Half Box is off to a great start. Launched officially in the first week of May, Better Half Box has already received accolades after delivering their attractively themed subscription boxes for the month of May.
The company offers one gift box each for the women and the men, in addition to special edition boxes that are tailor-made for an anniversaries, birthdays, Valentine's Day and much more. The gift boxes offered by Better Half Box comprise of five to six items related to lifestyle, beauty, fashion and home.
The most noteworthy feature of Better Half Box is the unique themes created by the company for each and every box. In the inaugural month of May, Movie Star Gorgeous and Casino Royale were the themes for the Gals and Guys boxes respectively. Both these themes created a lot of interest amongst men and women looking to celebrate their life's special occasions.
Better Half Box is offering two subscription plans including a Month-to-Month and 12 Month Prepaid Plan. Group packages are also available for companies with ten or more employees. Better Half Box subscription plans can also be gifted to a loved one directly from the company's website. The company is currently running a discovery discount offer where subscribers can get their first box at only $29 and each additional box at a low price of $39.99 with free shipping.
Discussing the idea of creating Better Half Box, the company's founder Joe Alter said, "We are extremely excited to provide couples with a unique discovery box that is the perfect gift opportunity for any loved one. All of the positive sentiment that has come our way over the last month has been overwhelming and we look forward to curating some amazing products for our upcoming box themes for the rest of the year. "