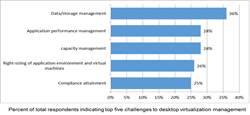 Boulder, Colo. (PRWEB) June 09, 2015
Enterprise Management Associates (EMA), a leading IT and data management research and consulting firm, today announced it will host a research webinar entitled "Desktop Virtualization: Emerging Requirements and Solutions."
Enterprise adoption of desktop virtualization technologies – including terminal services, virtual desktop infrastructure (VDI), OS streaming, client hosted virtualization, application virtualization, and Desktop-as-a-Service – has more than doubled in the last four years. This trend does not appear to be slowing as the reality of a multi-device workforce continues to fuel requirements for a common desktop experience. As desktop virtualization technologies and requirements continue to evolve, it is critical to understand the changing perceptions and expectations of this dynamic enterprise marketspace.
Brasen will discuss these perceptions and expectations, as well as:

Current adoption rates of desktop virtualization technologies across industry verticals and horizontals
How desktop visualization impacts and is impacted by emerging requirement for workforce mobility
The primary attractions and deterrents to desktop virtualization adoption
Identifying which desktop virtualization technologies and configurations are yielding the best balance of cost with performance
Quantifying the value and benefits of desktop virtualization adoption
The webinar is Tuesday, June 16 at 2:00 p.m. Eastern. Registration available at: http://research.enterprisemanagement.com/desktop-virtualization-2015-webinar-pr.html
About EMA
Founded in 1996, EMA is a leading industry analyst firm that specializes in providing deep insight across the full spectrum of IT and data management technologies. EMA analysts leverage a unique combination of practical experience, insight into industry best practices, and in-depth knowledge of current and planned vendor solutions to help their clients achieve their goals. Learn more about EMA research, analysis, and consulting services for enterprise line of business users, IT professionals and IT vendors at http://www.enterprisemanagement.com or blogs.enterprisemanagement.com.