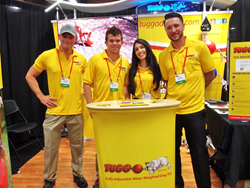 With so many toys that are just chewed up in five minutes or just treat dispensers, Tuggo has separated itself by being a toy that promotes exercise and helps expend energy."
Nashville, TN (PRWEB) June 30, 2015
In October 2014, Adam Harrington, inventor of the Tuggo Water-Weighted Dog Toys, received life-changing news. A PetSmart executive reached out to this young entrepreneur informing him that his dog toy was chosen as the 2014 PetSmart Innovation Station winner. Harrington's Tuggo toy is the definition of a true start-up success story. Only after 5 months of launching, this new, one-of-a-kind dog toy brand signed a contract and is now available at all PetSmart locations. Learn more about Tuggo: https://tuggodogtoys.com/.
With more than 1,145 stores, PetSmart® has marked its territory in 48 states and is the largest specialty pet retailer of services and solutions for the lifetime needs of pets. During the Annual SuperZoo Pet Industry Trade Show in Las Vegas, PetSmart sets up their Innovation Station contest, which gives small companies the opportunity to get their products nationwide distribution in all PetSmart stores.
Harrington was given a special ticket to the contest at the July 2014 SuperZoo event. During the 15 minute Shark Tank-style meeting with PetSmart executives, Harrington pitched his new pet product with great pride. He displayed a board with Facebook comments from customers wishing their local PetSmart carried the now-popular toy. Harrington ultimately won the executive over by showing a number of videos displaying that dogs love playing with Tuggo! View Videos: https://www.youtube.com/channel/UCfR0E66KuoolVwOFjknaFtQ.
"With so many toys that are just chewed up in five minutes or just treat dispensers, Tuggo has separated itself by being a toy that promotes exercise and helps expend energy," Harrington said.
Tuggo is an award-winning water-weighted dog toy. The simple yet innovative patent-pending design is a hard hollow plastic ball with a rope going through the middle that can be pulled from either side, giving it a tug-of-war effect, but what makes Tuggo special is the recessed screw cap allowing it to be filled with water. This weight provides the tension for dogs and allows them to play tug-of-war without dragging the owner across the yard. Dogs and their owners both love Tuggo, because it keeps their dog happy and healthy while having fun!
Harrington has made it very clear that he plans on building a brand name. He doesn't want his company to be just a one-hit wonder. His team has already lined up a new product that will launch at SuperZoo this year. He also revealed a nationwide TV commercial campaign that will be in the works for Tuggo Dog Toys.
"The biggest problem so far has been lack of capital and we literally ran the company in 2014 without spending any money on direct advertising." Harrington states.
"Now that PetSmart is carrying our product, it has given us nationwide distribution, capital to start advertising and most of all a stamp of approval. I cannot wait to see where we end up a year from now. Who knows, maybe we will even end up in the BIG tank, Shark Tank that is," expresses Harrington, "The sky is the limit for the Tuggo team and brand!"
About Tuggo Dog Toy: The TUGGO* was invented by former MTSU student, Adam Harrington. The local Tennessee entrepreneur resides in Mt. Juliet , near the Nashville area. Adam wanted to give his dogs something to keep them entertained and save his wallet. His dogs kept constantly tearing up every ball he bought. Adam came up with the idea to invent a dog toy that would be destruction resistant while promoting exercise and building muscle. The TUGGO can be filled with sand, gravel or water to accommodate their dog's size, strength and activity level. Learn more at: https://tuggodogtoys.com/.
Connect Socially:
Facebook: https://www.facebook.com/tuggodogtoy.
Twitter: @Tuggodogtoy
Pinterest: https://www.pinterest.com/tuggodogtoy/.
YouTube: https://www.youtube.com/channel/UCfR0E66KuoolVwOFjknaFtQ