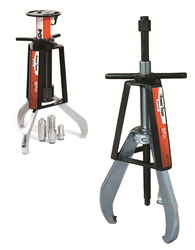 "This product extension is about providing an all-encompassing product line that meets any of our customers' pulling needs," said Matt Lemanski, Product Specialist at SPX.
Rockford, IL, USA; April 2015 (PRWEB) June 09, 2015
The range includes over 200 product items and covers a wider spectrum of application use. Whether it is a gear, bearing, wheel or any other object that needs to be removed from a shaft, SPX Power Team has a pulling solution for every situation. The combination of mechanical and hydraulic pullers allows for an effective and safe pull for every job.
The Posi Lock pullers feature a patented safety cage to ease installation as well as a T-handle to facilitate the efficient opening, closing, locking, and aligning of the jaws. The hydraulic pullers are equipped with a lift plate for ease of transport and lifting. In addition, ram point tips are available in various lengths to fit an array of applications. Using a hydraulic puller system adds efficiency and eliminates unsafe practices such as hammering, heating, or prying components. The cylinder replaces the center bolt function of the manual puller for greater flexibility. Slim tapered jaws allow for easier gripping and better access to tight spots.
"This product extension is about providing an all-encompassing product line that meets any of our customers' pulling needs," said Matt Lemanski, Product Specialist at SPX. "By expanding our line with Posi Lock's mechanical pullers and integrating our hydraulic power units and rams with Posi Lock's hydraulic pullers, we can now offer additional complete systems and solutions for our customers."
click here to download cut sheet:
http://www.spxflow.com/en/multimedia-library/pdf/spx-brand-pdf/industrial/power-team/product-catalogues/SPX_Power_Team_PosiLock_PTPosL1506_EN.pdf