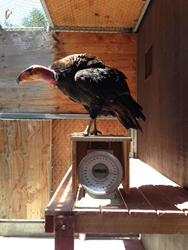 "Despite such a high blood lead level, Miracle is feisty and alert," said Dr. Andrea Goodnight, Veterinarian at Oakland Zoo. "Hopefully, this rapid intervention will lead to rapid release back to the wild."
Oakland, CA (PRWEB) June 03, 2015
**FOR IMMEDIATE RELEASE**
June 3, 2015
Contact: Nicky Mora, Senior Manager, Marketing/PR
(510) 632-9525 ext. 130
nmora(at)oaklandzoo(dot)org
Miracle Condor Receives Veterinary Care at Oakland Zoo
Oakland, CA – A California condor named Miracle has arrived at Oakland Zoo for veterinary care. The female is the first condor to be treated for lead poisoning in 2015 at Oakland Zoo. Upon capture by biologists, Miracle's lead levels were too high to register on the in the field test kit, thus she was immediately brought to the Zoo. Oakland Zoo's Condor Care Team examined and x-rayed her, then began chelation treatment to remove the lead from her body. "Despite such a high blood lead level, Miracle is feisty and alert," said Dr. Andrea Goodnight, Veterinarian at Oakland Zoo. "Hopefully, this rapid intervention will lead to rapid release back to the wild." She will continue to be treated at the Zoo's Steve and Jackie Kane Condor Recovery Center for one to two weeks and will be released back into the wild in Big Sur, California when her lead levels are lowered through treatment. The public can check in on Miracle as she recovers via the FedEx Condor Cam: http://www.oaklandzoo.org/Condor_Cam.php?cam=Oakland_Zoo
***Media Advisory***
On Wednesday, June 3, 2015 from 1:00pm – 2:00pm, Oakland Zoo will be offering the media photo and video opportunities of Miracle. Executive Director, Kelly Sorenson of Ventana Wildlife Society and Veterinarian Andrea Goodnight of Oakland Zoo will be available for interviews. If you plan on attending, please contact Nicky Mora at (510) 632-9525, ext 130 or email nmora(at)oaklandzoo(dot)org. Media should meet at the Lower Entrance of the Zoo and look for a Green Golf Cart that will be parked at the ramp, near bus stop. The condor can also be seen via live streaming video: http://www.oaklandzoo.org/Condor_Cam.php?cam=Oakland_Zoo.
Miracle was the first completely wild chick born in over a century in Big Sur, California. She was born on May 23, 2009, and her appearance was a truly miraculous event in the history of the condor recovery program. "Back then, it was a 'miracle' but now we know that condors can and will survive without our help as long as lead poisoning can be significantly reduced," said Kelly Sorenson, Executive Director at Ventana Wildlife Society. This condor was hatched, reared, and fledged without management or intervention; therefore, she was named Miracle by Ventana Wildlife Society. Miracle can be seen flying and exploring a wider range of the Central Coast, which includes trips to Pinnacles National Park.
It was during a routine condor check at Pinnacles National Park, where California condors are trapped and tested for lead semi-annually that biologists captured Miracle. On May 27, 2015, she tested positive for lead poisoning and was immediately transported to Oakland Zoo for treatment. "When a bird's blood levels are high, it's critical for us to take them in for veterinary care," said Rachel Wolstenholme, Pinnacles Condor Program Manager.
During the evening of Wednesday, June 3, 2015, Oakland Zoo will also host a Conservation Speaker Series called, "Action for Condors." The public is invited to attend the evening engagement presented by Kelly Sorenson, Executive Director of Ventana Wildlife Society and Dr. Andrea Goodnight, Veterinarian of Oakland Zoo. This talk will give the public an in-depth look at the history of the California condor, including how Ventana Wildlife Society has dedicated more than 20 years into efforts to save the species from extinction. Dr. Goodnight will offer a veterinary perspective on treating a critically endangered animal and will share her incredible experiences being a part of the California Condor Recovery Program. The Conservation Speaker Series will take place in Oakland Zoo's Zimmer Auditorium, located at the Lower Entrance of the Zoo. Parking is free and admission for the evening's speaker presentations is $12.00 - $20.00 per person (sliding scale). All proceeds from this event will be donated to Ventana Wildlife Society. For additional information about Oakland Zoo's Conservation Speaker Series, please contact Amy Gotliffe, Conservation Director, at amy(at)oaklandzoo(dot)org
ABOUT THE CALIFORNIA CONDOR:
In 2013, Jerry Brown, Governor of California signed into law a phase out of lead ammunition throughout the state for all hunting. Lead from spent ammunition is the most significant problem for California condors and this new law gives hope for condor survival in the future; however, the new law, AB711, does not go into effect until 2019. Condors are scavengers and feed upon carcasses they find across the landscape. Carcasses shot using lead ammunition may contain tiny fragments of lead, which are inadvertently eaten by scavenging wildlife. "Hunting and ranching operations can be important sources of food for scavengers, such as condors, when carcass remains are left on the landscape," said Rachel Wolstenholme, Pinnacles Condor Program Manager. "However, for these to be safe food resources, non-lead ammunition needs to be used." In 1987, the last wild California condor was taken into captivity to join the twenty-six remaining condors, in an attempt to bolster the population through a captive breeding program. Through the efforts of the California Condor Recovery Program, there are now about 232 California condors in the wild. For decades Ventana Wildlife Society and Pinnacles National Park have made it a mission to save the bird from extinction by regularly trapping and treating condors suffering from lead poisoning. Prompt treatment has saved the lives of many condors. Nests are monitored to ensure the greatest protection possible from potential threats to productivity.
Being actively involved in the California Condor Recovery Program is very important to Oakland Zoo. To learn more about Oakland Zoo's involvement, go to http://youtu.be/7Bhm3k_OINA
ABOUT THE CALIFORNIA CONDOR RECOVERY TEAM:
The U.S. Fish and Wildlife Service California Condor Recovery Program (Recovery Program) is a multi-entity effort to recover the endangered California condor. Cooperators include the U.S. Forest Service, San Diego Wild Animal Park, Los Angeles Zoo, Oregon Zoo, Oakland Zoo, California Department of Fish and Game, the Peregrine Fund, Ventana Wildlife Society, the Center for Scientific Investigation and Graduate Studies in Ensenada, La Secretaria de Medio Ambiente y Recursos Naturales (SEMARNAP), Pinnacles National Park, Santa Barbara Zoo, the Chapultepec Zoo in Mexico City and many others. The Recovery Program is currently focusing its efforts on the captive-breeding and reintroduction of California condors to the wild in the hopes of establishing a self-sustaining population.
ABOUT OAKLAND ZOO:
The Bay Area's award-winning Oakland Zoo is home to more than 660 native and exotic animals. The Zoo offers many educational programs and kid's activities perfect for science field trips, family day trips and exciting birthday parties. Oakland Zoo is dedicated to wildlife conservation onsite and worldwide. Nestled in the Oakland Hills, in 500-acre Knowland Park, the Zoo is located at 9777 Golf Links Road, off Highway 580. The East Bay Zoological Society (Oakland Zoo) is a nonprofit 501(c)3 organization supported in part by members, contributions, the City of Oakland and the East Bay Regional Parks. For more information please visit our website at http://www.oaklandzoo.org.
ABOUT VENTANA WILDLIFE SOCIETY:
Founded in 1977, Ventana Wildlife Society led the way to successful reintroduction of the Bald Eagle and the California Condor, two of the most iconic birds in the world, to native habitats in central California. Through the course of their work, they developed an organizational culture that strongly values science, education and collaboration and regularly found ways for both wildlife and people to benefit from one another. VWS recovers individual species and tracks the populations of many others so that conservation can be timely as well as effective. Focusing on youth education, we better ensure that future generations have the willingness and capacity to help wildlife. Our vision is to have a society who cares for and supports wildlife across the planet, particularly in California. http://www.ventanaws.org.
ABOUT PINNACLES NATIONAL PARK:
Pinnacles National Park became the fifth California condor release site in the US in 2003. Working closely with Ventana Wildlife Society, the park monitors the Central California condor flock for survival and nesting. One of our highest priorities is building a self-sustaining condor population through outreach and education about the dangers of lead to wildlife. The park works with the Institute for Wildlife Studies as well as Ventana Wildlife Society on this issue. http://www.nps.gov/pinn/learn/nature/condors.htm
###