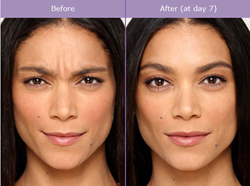 Even caring for skin properly and always wearing sunblock doesn't guarantee the loss of volume can be prevented.
Newport Beach, CA (PRWEB) June 09, 2015
Botox remains one of the top noninvasive procedures used to combat crow's feet and wrinkles on the upper part of the face. It is a powerful medicine used to block the nerve to muscle signals that are responsible for creating the look of crow's feet. Botox softens and can even eliminate fine lines and wrinkles that are caused by repetitive facial expressions.
Botox is useful in these areas as it relaxes the facial muscles that cause these wrinkles, while giving the skin a smoother, more youthful appearance.
Crow's feet are often one of the first signs of aging for most adults. This is because the temple areas around the eyes have less collagen than the other areas of the face and this shortage of collagen affects the elasticity of the skin there.
The upper eye area is also prone to sun damage and with a lack of proper skincare and sunscreen, can deteriorate very quickly. Even caring for skin properly and always wearing sunblock doesn't guarantee the loss of volume can be prevented. This deterioration is another cause for the appearance of crow's feet.
The continuous contractions of the facial muscles during expression are what cause the formation of these fine lines. This is why, when a highly trained plastic surgeon is able to target and then weaken selective muscles, he or she can eliminate these wrinkles; without interfering with any normal expressions or facial functions.
One of the safest and simplest ways to effectively erase common signs of aging is with Botox. Patients who receive Botox for their crow's feet will begin seeing results within 5-7 days of treatment. Although, it could take about two weeks to see the full effect of the procedure, and these results will normally last between three to four months. This gives instant results that attain a more youthful, rejuvenated look.
It is extremely important to ensure that the cosmetic surgeon or nurse practitioner you choose to perform your procedure is experienced. He or she must know the muscle structure of the face to be certain he/she uses the correct dilution and injection techniques for each of his/her patients.
For more information about Dr. Sadati and his nationally recognized practice, visit http://www.drkevinsadati.com.