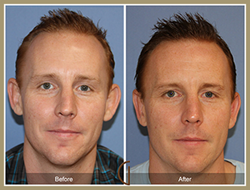 Newport Beach, CA (PRWEB) June 09, 2015
Ears play an important role in the overall symmetry of the face. If oversized or misplaced, the patient can often feel self conscious and suffer self esteem issues. Ears should compliment the face, rather than draw attention. However, some people live with protruding or disfigured ears that cause awkwardness and embarrassment. Dr. Kevin Sadati believes that no one should live with an appearance that causes such unhappiness. That is why Dr. Sadati suggests patients consider the option of undergoing otoplasty -- a reconstructive ear surgery designed to enhance a person's look, rather than detract from it.
Otoplasty is a surgical reshaping of the outer ears. The procedure may be performed to replace missing folds in the ear, reduce excess cartilage, reposition the ears to a more desirable position or cosmetically alter the appearance of the ear's shape. The type of otoplasty performed depends on the reason for the procedure. However, almost all procedures have the same preparatory and post surgical recovery processes.
When undergoing an otoplasty, there are two options available for anesthesia. For adults, it can be performed with local anesthesia and oral sedation, whereas for young children general anesthesia is required. Dr. Sadati may then use a number of techniques to reshape or reposition the ears to be more proportionate with the face. This may include suturing the ears closer to the head using discreet, undetectable incisions behind the ear, or even removing and remodeling small amounts of cartilage in and around the ears. It is important to remember, however, that otoplasty is different for every patient, as there are varying underlying causes of ear protrusion and dis-figuration.
Typically, an entire otoplasty procedure takes no more than one to two hours from start to finish using local anesthesia and twilight sedation without the need for general anesthesia, and patients are usually able to go home the after the operation. The ears are wrapped using a compression band to keep them in place during the healing process. The recovery period is usually just over a week long. Patients are advised to avoid moderate to intense physical activity, as well as apparel and activities that pose a threat to the ears during recovery time.
Otoplasty is appropriate for adults and children over the age of five. If protruding ears are obvious during childhood, earlier treatment is usually recommended to parents who want to help their children avoid ridicule or embarrassment from peers.
Dr. Kevin Sadati is one of the top California facial plastic and ENT surgeons specializing in minimally invasive facial and nasal surgery. He is Board certified by the American Osteopathic Board of Otolarynology Head and Neck Surgery (AOBOO-HNS), Diplomate of the American Board of Cosmetic Surgery (ABCS) and a member of the prestigious American Academy of Facial Plastic & Reconstructive Surgery (AAFRS).
Dr. Kevin Sadati has over a decade of experience in the field of facial plastic and reconstructive surgery, as well as nose and sinus surgery, and has become one of the most sought after Newport Beach and Orange County facelift, rhinoplasty, face and neck a liposuction and sinus surgery specialists.
For more information about Dr. Sadati and his nationally recognized practice, visit http://www.drkevinsadati.com.