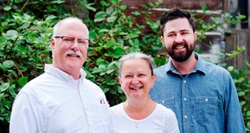 After years of writing and wine-stained dreaming, Beery decided it was time to put his pen aside, roll up his sleeves and get dirty in the vineyards and winery. J. Cage Cellars is a Beery family endeavor, including and their grown children.
Austin, TX , Healdsburg, CA, Denver, CO (PRWEB) June 03, 2015
J. Cage Cellars has launched with the release of single vineyard 2014 Sauvignon Blanc and 2014 Viognier. These hand-crafted wines are available to wine enthusiasts online directly from J. Cage Cellars.
The 2014 J. Cage Cellars Viognier Tzabaco Rancho Vineyards, Dry Creek Valley is available at $24 from the J. Cage Cellars Online Store - only 58 cases were crafted.
The 2014 J. Cage Cellars Sauvignon Blanc Mounts Vineyards is available at $28 from the J. Cage Cellars Online Store - only 55 cases were crafted.
To be released late 2015 will be the 2014 J. Cage Cellars Pinot Noir Nunes Vineyard, Russian River Valley at $40: only 125 cases were produced and will be released first to Wine-Stained Dream Club members and those of the pre-release allocation list.
For many years, wine blogger Roger Beery (Denver & Austin based Bacchus and Beery Wine Blog) has lived what he calls his Wine-Stained Dream. After years of writing and dreaming, Beery decided it was time to put his pen aside, roll up his sleeves and get dirty in the vineyards and winery. His creation, J. Cage Cellars, is a family endeavor, including Roger and Donna Beery and their grown children Conch Beery and Whitney Beery. "Our story is of two generations of the Beery family and our shared passion for hand-crafted wines. This shared passion spawned the dream of J. Cage Cellars. Once the dream took hold, our family agreed it was time to make "someday" a reality. Thus, the journey towards our Wine-Stained Dream began."
"Our vision is one that gives voice to the vineyard," they explain. "While many say they "let the vineyard speak," we at J. Cage Cellars live that motto every day. Our grapes are sourced from the finest boutique vineyards. Our winemaking style is one of hand-crafted minimal intervention. When you taste our wines we hope, that just for a moment, you are transported to each uniquely beautiful vineyard site. There, our winegrowers revel in producing the best their vineyard has to offer. At J. Cage Cellars, we give voice to the vineyard," the Beerys add.
How did they come up with the name "J. Cage Cellars?" "Naming a wine is hard work, but maybe not for the reasons you think. For starters, our family name is Beery…not a good name for a wine. Choosing a meaningful name was important to our family. J. Frank Cage was a real person; he was Roger's great-grandfather who lived in Blanco and Austin, Texas. Every day, thousands of people see his legacy without ever knowing. J. Cage helped design and in 1942, built Austin's historic Lamar Boulevard Bridge which spans Ladybird Lake. The six open spandrel concrete arches are an architectural beauty, which garnered the Bridge a spot in the National Register of Historic Places. It is J. Cage's craftsman spirit that lives on in the Beery family and in every bottle of J. Cage Cellars wine," they said.
As a young couple, back in 1983, Roger and Donna Beery fell in love with the California wine country after taking a trip to Napa and Sonoma. Roger recalls the rainy November day they spent in the vineyard with Caymus founder, Charlie Wagner. "In one afternoon I was vaulted from mere wine enthusiast to someone who had gained a deep appreciation for the vineyard and all the nuances of combining art and science which results in winemaking," he says. He was hooked and returned home dreaming of someday making wine to make you smile.
Roger's someday has arrived and he is living his Wine-Stained Dream with the creation of J. Cage Cellars. As proprietor, Roger is active in all aspects of J. Cage Cellars including toiling as the lead cellar rat, making wine and having fun learning the wine business. Donna works behind the scenes making sure that everything runs smoothly.
Roger and Donna's son Conch Beery serves as J. Cage Cellar's winemaker. Conch attended Texas Tech, graduating with a degree in Horticulture, specializing in Viticulture and Enology (winemaking). While at Texas Tech, Conch created award winning Texas wines from Italian varieties. After graduation he apprenticed with world renowned winemakers in Australia, New Zealand, Napa Valley and the Russian River Valley in Sonoma County.
The Beerys' daughter, Whitney, after graduation from Texas Tech with a hospitality degree, joined the hospitality team at Jordan Winery where her mother learned to appreciate Cabernet 30 years earlier.
Wine Stained Dreamers Club
"All of our wines are made in very limited quantities and are offered on a first-come-first-serve basis," the Beerys explains. "We would be honored to have you dream along with us as part of the Wine-Stained Dream. Please join our Wine-Stained Dreamer Club today," they add.
For more information, contact Roger Beery at 970.390.6494 or roger(at)JCage(dot)com.