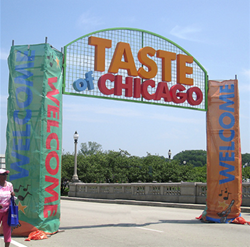 Sunrise Hitek offers a wide variety of indoor and outdoor signage options for events of any size
Chicago, IL (PRWEB) June 04, 2015
The look of any event leaves a lasting impression about the company to the visitors who attend. Make sure to make a good impression through proper signage design. Sunrise Hitek is now offering a wide variety of indoor and outdoor signage options for events of any size https://www.sunrisehitek.com/product/event-graphics-signage. Live events have become one of the most successful tools in linking buyers and sellers to one another. This being the case, it is important that the graphics not only provide information, but are also professional, organized, informative and easy to navigate so everyone can find what they need.
Sunrise can now print on a variety of popular substrates including: Fome-Cor, Gatorboard, Sintra, PVC, Styrene, Coroplast, vinyl mesh, and many more. They have many different signage styles such as their lightweight and portable display towers attract attention from all sides. One person setup without using tools https://www.sunrisehitek.com/product/display-towers. Another great piece is their HandySign https://www.sunrisehitek.com/product/handysign which is light-weight, easy to hold, and available in any size and shape using a supplied electronic die-line.
Sunrise Hitek also now offers a wide variety of https://www.sunrisehitek.com cutting and laser engraving services. Being a G7 Qualified Master Printer, they adhere to the strictest quality standards for unmatched color accuracy and consistency. Large format graphics are printed with UV resistant ink, therefore the colors will not fade. Sunrise Hitek specializes in superb product with turnaround times as fast as 48-hrs or even less to make any event deadline.
About Sunrise Hitek Group, LLC.
Sunrise Hitek https://www.sunrisehitek.com/ is an Inc. 5000 company established in 1988 and employs the most advanced equipment and technology, such as G7-certified HP Indigo and UV flatbed presses, laser engraving, and digital die-cutting, to create best-in-class color printing, short-run packaging, P.O.P. retail displays, and signage products. A privately-owned enterprise, the company is based in Chicago and sells products worldwide.