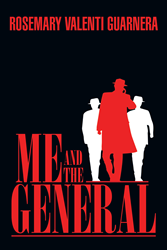 Without a doubt Liguori was an interesting personality.
CLEVELAND (PRWEB) June 02, 2015
A person's name is a large part of his and her identity. When that name becomes wrongly defamed it is difficult to vindicate the damaged reputation.
For Ralph Liguori, being close friends with Charles "Lucky" Luciano (the father of organized crime in the U.S.) wrongly cost him 10 years in prison. In 1936 both were caught up in the New York prostitution trial where the betrayal of Thomas E. Dewey incarcerated and exiled Luciano and Liguori back to Italy.
Years later, friend of Liguori and author Rosemary Valenti Guarnera presents Liguori's side of the story in the memoir "ME AND THE GENERAL." Highlighting Liquori's life beginning with his trying boyhood to his fascinating adventures with celebrities and famous gangsters in New York during the 1920's, Guarnera tells a true story of a man whose loyalty and good looks lead him into moral gray areas.
This fascinating chase between the villain, the boss and the accomplice delves into the history of organized crime and the fine line of good and evil.
"Without a doubt Liguori was an interesting personality," Guarnera said. "I realized from the start of our friendship, Liguori's desire to tell his story."
For more information, visit http://www.meandthegeneral.com.
"ME AND THE GENERAL"
By Rosemary Valenti Guarnera
ISBN: 978-1-49315-832-4
Available in softcover, hardcover, e-book Available on Amazon, Barnes & Noble and Xlibris
About the author
Rosemary Valenti Guarnera was born in Cleveland, OH and later went to work at the ABC affiliate WEWS-TV Channel 5 where she was chosen Woman of the Year. After moving to Rome, Italy, Guarnera worked at the Institute of American Poultry, attached to the American Embassy and then became co-owner of the European Coach & Travel Co. She subsequently joined the Food and Agriculture Organization of the United Nations, World Bank and Rockwell International. Guarnera married the late Italian Captain Eugenio Guarnera and divides her time between the United States and Italy.