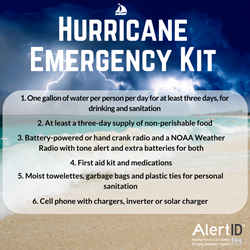 The more informed and prepared we are, the better we can handle a disaster situation
Las Vegas, NV (PRWEB) June 02, 2015
As we enter the month of June, when hurricane season officially begins, AlertID is providing those living along the Eastern Seaboard, West Coast, Gulf Coast and Hawaii with vital safety tips, timely alerts and a helpful smartphone app to protect families and their homes.
According to the National Oceanic and Atmospheric Association (NOAA), the 2015 Atlantic hurricane season has a 70 percent chance of being below the historical average. However, this climate prediction doesn't mean that catastrophic hurricanes will not occur.
"Being prepared with the proper supplies and information can be vital during and after a hurricane," said AlertID Founder, Keli Wilson. "The more informed and prepared we are, the better we can handle a disaster situation."
AlertID's online program and app offers members' real-time weather updates and allows them to communicate with their families and neighbors in real-time as well.
Prepare for the 2015 Hurricane Season by following these measures:

Secure your property: Permanent storm shutters offer the best protection for windows. A second option is to board up windows with 5/8" marine plywood, cut to fit and ready to install. Tape does not prevent windows from breaking.
Trim your trees: Trimmed trees and shrubs are more wind resistant
Pickup your yard: Bring in anything that can be picked up by the wind.
Cool your Fridge: Turn your refrigerator and freezer to the coldest setting. This will temporarily prevent your food from spoiling if there is a power outage.
Turn off your propane: It's important to turn off your propane tank before a storm arrives. Do not turn off your natural gas source unless notified by the proper authorities.
Fill your car's gas tank: If you leave before or during a storm's arrival, it's important to have enough gas to get you to your destination.
Install a generator: Generators can temporarily power some vital appliances if you encounter a power outage.
Have a plan: A hurricane evacuation plan can prepare all members of a family for when a storm hits unexpectedly.
For more information on hurricane safety and additional tips to protect your family, please visit:
https://www.alertid.com/search/hurricanes.asp
http://www.ready.gov/hurricanes
About AlertID
AlertID, your neighborhood safety network, is free to use and helps protect families and neighborhoods. AlertID's mission is to help people live safely by providing a secure way to receive trusted public safety alerts and share information with family members and neighbors. AlertID uses technology to help citizens and federal, state and local authorities share information about crime, sex offenders, natural disasters, missing children and severe weather that can threaten public safety. AlertID is accessible to members online as well as by email and mobile app. For more information visit http://www.AlertID.com