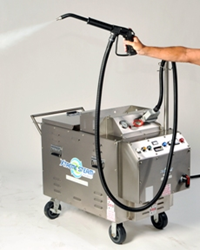 AmeriVap is pleased to announce that we are now an approved GSA Schedule Vendor.
Dawsonville, Georgia (PRWEB) June 03, 2015
AmeriVap Systems, Inc. awarded GSA Contract Number GS07F071CA to supply Industrial and Commercial Dry Steam Cleaners and attachments to Federal Agencies and Bureaus via GSA Advantage. AmeriVap Systems, Inc. is located on GSA eLibrary in Federal Supply Schedule 073 and Category Number 375 99.
The Xtreme Steam Industrial and Commercial Dry Steam Cleaners are completely electronic, high temperature, low moisture, adjustable pressure, chemical-free, user friendly and labor efficient.
The U. S. manufactured Xtreme Steam Industrial Dry Steam Cleaners are available in 10KW through 80KW sizes, with multiple electrical configurations and are ASME/OSHA compliant. These Industrial Cleaners are powerful enough to produce sustained, culinary grade dry steam vapor, which permits cleaning in areas where water is not welcomed. Multiple attachments are available which allow steam to be delivered to any surface with high temperatures that naturally kill pathogenic bacteria, remove tough soils, and kill pests and larvae. The Xtreme Steam Industrial Dry steam Cleaners are used in multiple industries for applications as varied as cleaning, degreasing and degassing equipment and vehicles, to thawing tanks and piping systems, to cleaning and sanitizing large food service operations.
The Commercial Dry Steam Cleaners (Steamax, Vapor Blitz II, Vapor Blitz I and Blitzer) have successfully proven applications in the Health Care, Food Service, Hospitality, Restoration, Pest Control, and Commercial Detailing sectors. Operators cite chemical-free, portability, labor efficiency, water-savings, lack of MSDS training and administration, user friendliness, and affordability as key decision making factors.
AmeriVap® Systems Inc. is the industry pioneer in dry steam cleaning technology. For 24 years, AmeriVap® Systems has supplied and consulted with Fortune 500 companies all over the world for cleaning and sanitizing equipment. To learn more about AmeriVap Systems, please visit: http://www.amerivap.com