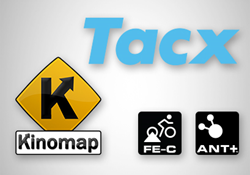 Leveraging ANT technology and the ANT+ ecosystem allows manufacturers to deliver that experience to their customers quickly
Cochrane, Alberta (PRWEB) June 02, 2015
ANT Wireless, proven innovator in ultra-low power (ULP) wireless technology, announces the market entry of two new products implementing the ANT+ Fitness Equipment Control (FE-C) profile: Tacx and Kinomap Trainer announce new wireless interoperability in their bike trainer products, built to create an exciting indoor training experience for cyclists. Tacx has implemented the FE-C device profile in its Vortex Smart and Bushido Smart trainer models as well as its new indoor training software, while Kinomap has added FE-C support to its interactive training software, creating a new interoperable training opportunity.
Kinomap Trainer's indoor cycling software (available on Android) allows cyclists to create engaging workouts by choosing from thousands of pre-recorded, GPS-tracked course videos to ride through. Tacx's smart trainers complete the experience by leveraging FE-C to adjust their resistance based on the chosen course and GPS track, and to send real-time workout and ride data back to Kinomap Trainer for feedback and storage.
About ANT+ FE-C
The ANT+ FE-C device profile is the first wireless standard that defines communication in both directions between smart fitness equipment and smart displays (e.g., mobile phones, bike computers, equipment consoles). A smart display can wirelessly control the difficulty of a workout on an electronic fitness equipment device (e.g., bike trainer), while the fitness equipment broadcasts workout data back to the smart display for real time feedback to the athlete. Innovators such as Kinomap, Tacx and more are already leveraging this interoperable standard.
"The FE-C device profile is another example of the value of the ANT+ interoperable standard," said James Fujimoto, Director – ANT Wireless. "Interoperability allows OEMs to focus on the products they're good at, and work with innovative partners to deliver a premium user experience. Leveraging ANT technology and the ANT+ ecosystem allows manufacturers to deliver that experience to their customers quickly."
The FE-C profile includes features that let devices communicate:
•Real-time speed, distance, elapsed time and power (optional) data from trainers or Indoor Cycling (IC) bikes to displays
•Real-time control from the display to the trainer or IC bike. The display can send the fitness equipment a 'target power' value so that the trainer or stationary bike automatically adjusts its resistance.
About ANT / ANT+ (http://www.thisisant.com)
ANT is an established protocol for ultra-low power (ULP) practical wireless networking applications and is the technology behind over 100M devices. Celebrating over 10 years in wearable technology, ANT is the pervasive ULP wireless technology facilitating the capture of critical market share in the exploding mobile sensor sector. This standardized communication platform enables quick-to-market solutions for application developers, sensor manufacturers, and smartphone makers.
ANT+ facilitates interoperability between ANT+ products and the collection and transfer of sensor data. Applicable in sport, wellness management and home health monitoring, ANT+ (built on the base ANT protocol) defines device profiles that specify data formats, channel parameters and network keys. ANT+ has amassed an ecosystem of world-class technology vendors in the ANT+ Alliance, an open special interest group of companies who have adopted the ANT+ promise of interoperability. These industry leaders offer readily-available brand name products for sport, wellness management and home health monitoring.
The company behind ANT Wireless is Dynastream Innovations Inc. (http://www.dynastream.com). Dynastream was established in 1998 and became a wholly owned subsidiary of Garmin Ltd. in December 2006. Dynastream is based in Cochrane, Alberta, Canada, and is a world innovator in the research and development of inertial and wireless technology.
ANT+ Product Directory (http://www.thisisant.com/directory)
The ANT+ Product Directory is a complete inventory of all ANT+ certified or verified products. It is a tool designed specifically to help consumers source hundreds of industry-leading devices and all compatible products within the vast ANT+ ecosystem. Apps and devices may be searched by product name, brand, activity or product category, allowing the consumer to create a monitoring system that meets their specific needs.