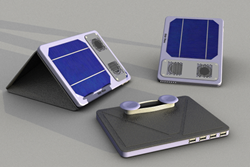 Use the Solarwave Bluetooth speakers at home to play your favorite music and take it with you when head out on an adventure to keep your mobile devices charged.
Carlisle, Massachusetts (PRWEB) June 02, 2015
Solarwave announces today the introduction of an Indiegogo crowdfunding campaign to launch its new "Solarwave" product. Consumers are looking for products that are green energy such as solar power, wireless Bluetooth enabled and provide additional power for mobile devices. Solarwave combines all of this into one unique solution.
A few of the biggest issues with mobile devices is that the battery life is often short lived, and the speakers do not allow you to play music loud enough for your friends and family to enjoy with you. Solarwave is a stylish solution to keep mobile devices powered using solar energy while entertaining with Bluetooth speakers to share music.
Solarwave has a compact, durable design for both indoor or outdoor use and stands only 6" (150 mm) high, is packed with 20,000 mAh battery power (an average phone is 1,800 mAh) and Bluetooth enabled speakers. Consumers can use Solarwave for entertainment, keep all mobile devices charged, and always be ready if the power goes out. It's perfect for using the wireless Bluetooth speakers at home, then pack it up in its case when you head out for an adventure.
"Imagine you are having a great time at the beach, camping, fishing, hunting, tailgating, boating or whatever you may be doing that is away from a power outlet, and all of a sudden your mobile device battery dies. We have all been there and it always seems to happen at the worst of times". Said, Connor Catanzano, Founder. "With Solarwave, you don't need to worry about your devices dying during these times again. Solarwave uses the power of the sun as a supplemental power source and has enough battery life even without the sun to fully charge eight or more typical mobile devices. On top of keeping all of your devices charged, it also has built in high performance Bluetooth speakers to ensure non-stop entertainment".
The Indiegogo crowdfunding campaign is to raise the initial capital needed to move Solarwave into production and to test the marketability of the product. The initial funding is set for $30,000, but the Company hopes to far exceed this amount.
About Solarwave
Solarwave is a new company focused on creating consumer products which utilize alternative energy and wireless technologies. The first product being introduced is the "Solarwave." Connor Catanzano is one of the founders, and is 18 years old from Bedford Massachusetts. He is a co-president of the environmental club and active in studying alternative energy solutions. This is the first of many environmentally conscious products from Solarwave.
Visit the Solarwave Indiegogo Campaign at: http://igg.me/at/solarwave