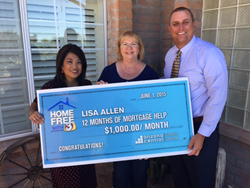 "I am thrilled to be chosen, and on the same day as my mother's birthday," Allen said
Phoenix, AZ (PRWEB) June 02, 2015
The 3TVPhoenix contest, conducted in partnership with Arizona Central Credit Union, encouraged viewers to watch the station's 6:00 a.m. Good Morning Arizona program for a code word that then had to be entered on the station's Facebook page.
Lisa Allen of Scottsdale was chosen at random from all other code-entering participants. She plans to apply the monthly $1,000 prize to her mortgage payments for the next 12 months. Allen, a stay-at-home mom, expressed her surprise and gratitude at winning, indicating that the help with her mortgage would make it easier for her to afford to deal with some other recent and unexpected expenses, such as repairing her dryer!
"I am thrilled to be chosen, and on the same day as my mother's birthday," Allen said – then going on to indicate that she is such a regular viewer of Good Morning Arizona, that she even records it so she can replay the morning's program on those days when she can't watch it live.On Monday June 1st, 3TVPhoenix and Arizona Central Credit Union officials traveled to Allen's home to present her with a certificate representing her winnings. According to Todd Pearson, President and CEO of Arizona Central, the credit union was pleased to participate in a program that helped both organizations continue their tradition of supporting the communities they both serve. "This was a great way for us to not only help out the contest winner with a significant budget item, but to also recognize the top-notch news and information coverage that 3TVPhoenix provides the region," Pearson said.
ABOUT ARIZONA CENTRAL CREDIT UNION Founded in 1939, Arizona Central Credit Union is a not-for-profit, full-service financial institution that is locally owned and operated by its members. Serving over 55,000 members and with current assets exceeding $400 million, it is backed by a 76-year tradition of financial strength, stability and service. Deposits are federally insured up to $250,000 by the National Credit Union Administration (NCUA). To learn more, visit azcentralcu.org
ABOUT 3TV As one of the largest independent television stations in the country, 3TV provides more local news coverage than any other station in the state delivering 9.5 hours of local news a day. Award-winning journalism with a strong focus on hyper-localism, along with high quality syndicated programming, such as Wheel of Fortune, Jeopardy and Dr. Phil, help make 3TV a favorite for hard-working Arizonans.
###