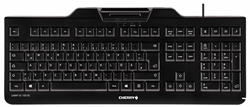 The CHERRY JK-A0100EU smart card keyboard has been designed to control logical access to networks in order to maintain a secure user base.
Pleasant Prairie, WI (PRWEB) June 03, 2015
The JK-A0100EU secure smart card keyboard is ideally suited for regulated industries such as government, finance and healthcare. However, this keyboard can also be used by any organization that wants reliable access control to enhance the security of their network.
The wired JK-A0100EU smart card keyboard requires the secondary authentication of a Smart Card before allowing access to the connected system. In addition to the smart-chipset card reader, the keyboard supports secure PIN entry.
The keyboard boasts quiet, comfortable keys to reduce fatigue, even after long work sessions. The PC/SC smart card reader is CCID and EMV Level 1 approved, and is also compatible with reading and writing ISO 7816-compliant smart cards. This keyboard features the classic CHERRY office "touch and feel" tactile quality for efficiency and ease of use.
The full size 104 + 4 position U.S. key layout of the new CHERRY JK-A0100EU provides the optimum key arrangement for maximum productivity. The convenient placement of the sc smart card reader allows for one-handed operation. The keyboard features a thin profile and weighs 1.85 lbs. (840 g). FIPS 201 certification is in process.
The keyboard uses low-profile (LPK) key technology with a service life of 10 million actuations per key. The easy-to-operate sc smart card reader has a 100,000 insertion life cycle. The CHERRY JK-A0100EU keyboard includes a 2-year warranty and is available from CHERRY authorized distributors and resellers. To find out where to buy smart card reader keyboards, use the CHERRY locator tool.
For further information visit [http://cherrycorp.com/product/jk-a0100eu-smartcard-keyboard/ or call 262-942-6500. Evaluation units can be made available to qualified recipients by contacting Russell MacKenzie, Product Marketing Manager. Please refer to his contact information below.
About CHERRY
CHERRY, a registered brand of ZF Friedrichshafen AG, provides high-performance sensors, standard and custom electrical switches, and computer input devices for the worldwide automotive, computer and consumer/commercial OEM markets.
About ZF Friedrichshafen AG
ZF is a worldwide leading automotive supplier for drive line and chassis technology with 121 production sites in 27 countries.
Contact
Russell MacKenzie
Product Marketing Manager
262-942-6508
russell.mackenzie(at)zf(dot)com