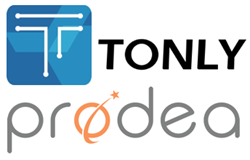 Having a shared vision for creating a simplified, user-friendly experience around our technologies, we feel that a partnership between TCL Tonly and Prodea is a great fit for all
Singapore (PRWEB) June 03, 2015
BroadcastAsia 2015 – Tonly Electronics Holdings Limited, a subsidiary of TCL Corporation, a company listed on the Shenzhen Stock Exchange, Stock code 000100.SZ, (hereinafter referred as "TCL Tonly") and Prodea Systems announced today a strategic partnership designed to enable an unprecedented suite of connected lifestyle services across TCL Tonly's extensive portfolio of smart consumer electronics, powered by Prodea's Internet of Things (IoT) service delivery platform. Debuting at BroadcastAsia 2015, the combined solution empowers TCL Tonly's consumer products, such as HD/SDTV-STBs, OTT STBs, Intelligent Wireless Speakers, Wearable Products, Sound Bars, HTS, DVD/BD Player/Recorder and more, with an evolving selection of IoT services. All services are available to consumers across intelligent and traditional home appliances.
The offering builds on TCL Tonly's leadership position as one of the world's leading vertically-integrated manufacturing services providers by integrating a growing number of connected devices with Prodea's Residential Operating System (ROS®). ROS® is a service delivery platform for the IoT, designed to enable a variety of existing and emerging service providers to offer a growing bundle of lifestyle services which seamlessly integrate with consumer electronics products.
"Having a shared vision for creating a simplified, user-friendly experience around our technologies, we feel that a partnership between TCL Tonly and Prodea is a great fit for all," said Andrew Tauhert, EVP of Marketing & Business Development of Prodea Systems. "By integrating our platform to TCL Tonly's leading products, we are setting a new industry benchmark for what a truly connected lifestyle should be, focusing on consumer experience above all".
"With this partnership, we are not only re-shaping the way our retail customers experience the IoT through our products, but also enabling a new generation of experiences through our service provider customers", added Ruiliang Yang, Vice President & General Manager of International AV Business Unit at TCL Tonly. "We are excited to work with Prodea in establishing a framework for the global distribution of our combined offering."
Live demonstrations of the TCL Tonly + Prodea offering can be seen at BroadcastAsia from June 2nd – 5th in TCL Tonly's booth located at 4B1-16, Marina Bay.
About Prodea Systems:
Prodea is the first company that delivered on the promise of the connected home while finally making a seamless connected life possible for everyone. The Prodea Residential Operating System (ROS®) is a unified platform of the Internet of Things that enables diverse Service Providers worldwide to rapidly and cost-effectively deliver autonomous, agnostic and easy to use connectivity and services between people, data and devices.
ROS® is a managed service delivery platform agnostic of connection, service, application, and protocols, solving the challenges that both traditional and non-traditional service providers face in delivering the Internet of Things to consumers. This approach to the Internet of Things makes the ROS® platform a far more viable proposition in the immediate short term by creating a new world where services, devices, and data can be exchanged seamlessly. This is proven by current ROS deployments spanning Africa, Europe, Latin America, the Middle East, Southeast Asia and the United States.
Headquartered in Richardson, Texas, Prodea maintains additional offices in New York; Los Angeles; Mumbai; London; Dubai, United Arab Emirates; and Johannesburg. 
For more information about Prodea Systems, please visit: http://www.prodea.com or contact Andrew Tauhert at +1-214-278-1876.
About TCL Tonly:
Tonly Electronics Holdings Limited (TCL Tonly), is a leading vertically-integrated manufacturing services provider in the audio-visual products. It is also is the largest video products manufacturer and the fourth largest HTS manufacturer in the world, and is principally engaged in the research and development, manufacturing and sales of audio-visual products for international brands on an ODM basis. Its ultimate controlling shareholder is TCL Corporation. TCL Tonly always focuses on creating a new type of platform of ODM industry with greatest competitiveness, based on the advanced acoustic and wireless internet technology. Through managing its chains of products creating, supply and quality control under the principle of Customer Oriented effectively, TCL Tonly is able to provide holistic solution of products concerned to its customer, and shape a commercial ecosystem with the core of products.
The major products of TCL Tonly can be divided into four parts:
I Set-Top-Box. Such as HD/SDTV-STB, OTT STB;
II Smart Home & Audio Products. Such as Intelligent Wireless Speaker; Sound Bar; HTS; Mini Micro;
III Video Products. Such as DVD/BD Player/Recorder
IV Intelligent Wearable Products. Such as Ear Phone, and other more.
For more information about TCL Tonly, visit: http://www.tonlyele.com