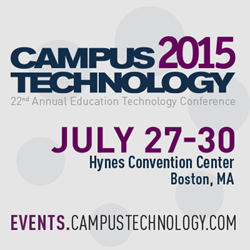 As higher education continues to migrate to technology-based connected campuses, educating administrators has never been more important,
Boston (PRWEB) June 02, 2015
Collegiate technology professionals – including CIOs, instructional designers, campus IT administrators and faculty members from across the country – will have an opportunity to learn about cutting edge innovations in higher education technology when they assemble July 27-30 for the 22nd annual Campus Technology (CT) summer conference at the Hynes Convention Center in Boston.
CT will provide an environment where attendees can share experiences and network, while obtaining the most up-to-date information about technology products, services, applications, software, devices and quantitative tools available to private, public, community and online colleges and universities across the country.
"As higher education continues to migrate to technology-based connected campuses, educating administrators has never been more important," said Mike Eason, CT general manager. "CT 2015 will provide attendees the information they need to create secure and innovative campuses across the country."
CT 2015 will feature a variety of general and informative breakout sessions, an exhibit hall packed with the latest products and applications, keynotes and comprehensive workshops where attendees can dive into the newest digital technology solutions.
"In an age of digital disruption, we are proud to host several distinguished keynote speakers at CT 2015," said Eason. "Our speaker lineup features thought leaders who inspire technological transformation in higher education."
The opening keynote speaker for CT 2015 will be Southern New Hampshire University President Paul LeBlanc. LeBlanc is innovating higher education with College for America, a new program that replaces the three credit course system with self-paced exams and 120 core competences. The Wednesday keynote speakers include Xavier University CIO Shawn Nason and MakerBot Vice President of Professional Services Jordan Brehove, who will discuss the emergent role of 3D printing in higher education. CT's closing keynote speaker will be cybersecurity expert and California State University Chief Information Security Officer William Perry.
Campus Technology 2015 will feature two new focus areas for attendees, including CIO: Next Generation and Higher Ed IT in the Digital Age. The conference also offers content focusing on IT Leadership and Policy; Online and Blended Learning; Teaching and Learning in the Digital Age; and IT Management and Networking.
CT will be co-located with the Association for Authentic, Experiential and Evidence-Based Learning (AAEEBL) for the 2015 conference, "Moving Beyond 'One-Size-Fits-All.'" This ePortfolio conference will target three strategic and transformative approaches: evidence-based learning, personalized learning and holistic outcomes assessment. Participants are eligible to attend sessions at both conferences to maximize their learning.
For more information regarding conference registration packages, sessions, speakers, workshops and general conference details, visit campustechnology.com/summer15. Join the conversation by following the conference on Twitter (@CT_Events) and using and searching the hashtag (#CampusTech). For even more CT updates, "like" Campus Technology Events on Facebook and join the Campus Technology Events LinkedIn group. View CT 2014 session videos on the Campus Technology Events YouTube channel.
###
About Campus Technology
The Campus Technology annual summer conference is the nation's premier higher education technology conference, where leading innovators and experts in technology for higher education guide faculty, instructional designers, eLearning program managers, information technologists, and campus administrators into the new realm of teaching and learning using the latest in applications, social software and immersive platforms. Each conference provides a collegial environment in which attendees can exchange experiences and network with other attendees, as well as discover the latest in technology products, services and applications in all platforms, software, presentation devices, quantitative tools and technologies.
About LRP Conferences, LLC
LRP Conferences, LLC, an affiliate of LRP Publications, produces more than a dozen professional conferences and trade shows annually including: Campus Technology Conference, Campus Technology Forum, Ergonomics Conference & ErgoExpo, Future of Education Technology Conference (FETC), HR in Hospitality Conference, HR Technology® Conference & Exposition, and National Workers' Compensation and Disability Conference® & Expo.
About LRP Publications
LRP Publications, headquartered in Palm Beach Gardens, Florida, is known as educators' most trusted source for practical and legal education administration guidance and produces newsletters (Education Daily®), books, pamphlets, DVDs, audio conferences, eLearning courses, online services (Title1admin®.com, EducationDaily.com® and Special Ed Connection®.com) and training tools to help educators implement sound programs and avoid compliance errors related to Title I, autism, discipline and more. LRP also produces professional education conferences including: National Institute on Legal Issues of Educating Individuals with Disabilities® and Special Education School Attorneys Conference. For a complete list of LRP products, eCourses and conferences, please visit http://www.lrp.com.
Note: Media representatives interested in attending and covering Campus Technology 2015 may pre-register online at http://www.cteventspress.com by July 22 or onsite at the registration desk. Media representatives are required to register and will not be admitted into any Campus Technology venues without a badge issued by Campus Technology staff. There is no cost for media registration.