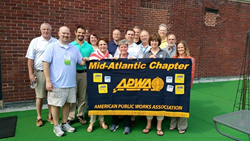 The M50 is one of the few pipe bursting systems able to fit inside a manhole
Alameda, CA (PRWEB) June 02, 2015
Pipe Bursting manufacturer TRIC Tools, Inc. enjoyed its recent participation at American Public Works Association (APWA) Mid Atlantic 57th Annual Conference and Equipment Show. The show took place May 6th through the 8th in Baltimore, MD, on One West Pratt Street at the Baltimore Convention Center. Director of Sales Gregg Abbott and East Coast Municipal Sales Director Matt Lapinsky represented TRIC Tools at the conference. Matt Lapinksy is the former Aberdeen Maryland Public Works Director. "Considering the demonstrations in and around Baltimore, we wondered how well the conference attendance would be," said Abbott. "That being said, the attendance was pretty well attended and Matt and I had some good conversations with a number of city managers," continued TRIC's Abbott.
Baltimore's Stephanie Rawlings-Blake and US Congressional 7th District Elijiah E. Cummings welcomed attendees on the morning of May 7th. The Keynote Speaker was Howard Rosen, Phd. from the University of Wisconsin's Department of Engineering. The American Public Works Association (APWA) serves professionals in all aspects of public works and serves to be an effective vehicle for providing education, mentorship and continuing education for public works agencies throughout North America. The APWA has 28,500 world members through its various chapters. Of these members some are from the private sectors that provide equipment and services for the APWA agencies.
In Baltimore, TRIC showcased its Municipal 50 Ton (M50) pipe bursting equipment. The M50 is capable of splitting ¾ inch through 8 inch pipelines. "The M50 is one of the few pipe bursting systems able to fit inside a manhole and can be run off equipment that Public Works agencies already have on hand for other uses," said TRIC's Matt Lapinsky.
TRIC invented and patented the first Lateral Pipe Bursting System while simultaneously gaining national approval of HDPE pipe for its use, thus opening the market for trenchless home sewer replacement in America.
For more information about Trenchless Pipe Bursting equipment or the Trenchless Industry in general - please call 888-883-8742 or visit TRIC's website at http://www.trictrenchless.com to see how they can answer any of these questions for you. Get your Trenchless Sewer and Water Replacement service off on the right foot, one lateral at a time.