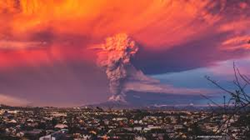 evigilo's "behind-the-scenes" involvement in heroic, lifesaving efforts in volcanic eruptions in Chile
Tel-Aviv, Israel (PRWEB) June 03, 2015
evigilo, a world leader in delivering and developing emergency mass-notification, multi-channel solutions, reported of its "behind-the-scenes" involvement in heroic, lifesaving efforts in Chile over the past few months. Since March this year, an unusual and violent seismic and volcanic activity has been inflicting the South-American country, putting millions in danger.
Multiple eruptions have spewed lava, ash and gas into the atmosphere. "evigilo's technology, adopted by the Chilean government in 2012 and put to the ultimate test in the destructive earthquake of 2014 (reducing the number of casualties by a factor of 100!), has been playing a vital role in informing the public of impending dangers, providing evacuation notices and safety instructions," says Mr. Guy Weiss, evigilo's CEO. The system delivered personalized messages to mobile phones (directly, while bypassing the mobile network bottlenecks) and provided critical, lifesaving information in real time.
This life saving system was deployed after the tragic events of 2010, when 560 people lost their lives in a tsunami. The Chilean government commissioned evigilo, a leader in its field to deploy its mass alert technology across the country. Since then, the system was tested many a times, both in training and in real situations, saving countless lives and protecting millions.
The recent unusual volcanic activity started with the cataclysmic eruption of the Villarrica volcano on March 3rd. evigilo's alert system was used to notify local residents. They were instructed to evacuate to a distance of 20 km from the volcano and people living in nearby municipalities were instructed to stay indoors to avoid the ash and gases.
On April 22nd, another dramatic eruption surprised residents of the Los Lagos region. The Calbuco volcano in southern Chile has erupted after being dormant for 42 years. Twice! in 24 hours, spewing ash and lava up to 1,000m into the air. Immediate Emergency Alerts were issued for the towns of Puerto Montt and Puerto Varas in order to warn and protect citizens and tourists. Thousands were evacuated, tens of thousands warned. 8 days later, on April 30th the Chilean skies were again filled with lava, smoke and ash after another eruption of the Calbuco Volcano.
During these catastrophic events, evigilo's mass alert system sent out tens of thousands of mobile phone alerts, facilitating the work of the emergency forces in saving countless lives. Early evacuation helped not only to reduce casualties, but also reduce exposure to ash and gas that were released during these eruptions.
About evigilo
evigilo is a world leader in delivering and developing emergency mass-notification, multi-channel solutions for governments, municipalities and businesses. Its technology is field proven (deployed and used on many continuous crises flawlessly) and has been selected by the IDF Home Front Command, the Chilean government as well as many other organizations around the world.
In time of crisis, real urgent crises, it is critical to notify the many (the public, selected groups of people, designated geographies, etc.), fast! Knowing what is happening, when it is happening will save lives, will allow for faster recovery, will save money and will allow for better control of an otherwise chaotic situation. This is the bedrock of evigilo.
For more information visit http://www.evigilo.net