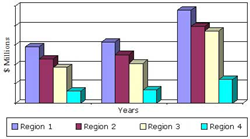 The global market for disposable medical sensors is expected to reach $6.8 billion in 2019.
Wellesley, Mass. (PRWEB) June 02, 2015
With a growing demand for disposable medical devices that are safe and therefore cost-effective to use, disposable medical sensors have witnessed a surge in demand. BCC Research reveals in its new report that manufacturers, in an attempt to cater to the changing dynamics of the market, are shifting their focus towards developing disposable medical sensors.
The global disposable medical sensors market was valued at $3.8 billion in 2013 and is expected to grow at a compound annual growth rate (CAGR) of 10.2% during the forecast period, to reach an estimated value of $6.8 billion in 2019. Biosensors dominated the disposable sensor market in terms of revenue share. Increasing demand for diagnostic and monitoring devices such as cardiac pacemakers and blood glucose monitors are the key drivers of this segment.
A growing geriatric population coupled with spreading prevalence of target diseases pertaining to cardiovascular, audiology and urology systems are the most significant growth drivers of the disposable medical sensors market. In addition, rising usage rates of insulin and infusion pumps due to pervasive levels of diabetes is predicted to drive market growth further.
"The healthcare industry is rapidly moving towards miniaturization of equipment and use of nanotechnology for diagnostics and treatment. In keeping with this trend, manufacturers are focusing on producing MEMS (MicroElectroMechanical Systems)," says BCC Research analyst Vijay Laxmi. "Growing demand for minimally invasive surgeries and the presence of high unmet medical needs in emerging Latin American and Asia-Pacific economies are responsible for the growth of the market and also present significant opportunities for the disposable sensors."
Disposable Medical Sensors: Technologies and Global Markets (HLC182A) discusses the global disposable medical sensors market in terms of growth, size and opportunities not only with regard to different products, but also regionally. The report includes forecasted trends and revenue through 2019.
Editors and reporters who wish to speak with the analyst should contact Steven Cumming at steven.cumming(at)bccresearch(dot)com.
About BCC Research
BCC Research publishes market research reports that make organizations worldwide more profitable with intelligence that drives smart business decisions. These reports cover today's major industrial and technology sectors, including emerging markets. For more than 40 years we've helped customers identify new market opportunities with accurate and reliable data and insight, including market sizing, forecasting, industry overviews, and identification of significant trends and key market participants. We partner with analysts who are experts in specific areas of industry and technology, providing unbiased measurements and assessments of global markets. Recently selected as the world's greatest market research company, BCC Research is a unit of Eli Global, LLC. Visit our website at http://www.bccresearch.com. Contact us: (+1) 781-489-7301 (U.S. Eastern Time), or email information(at)bccresearch(dot)com.