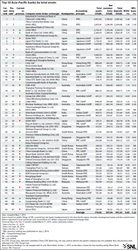 Mitsubishi UFJ Financial slid to the fifth spot on the list of 50 largest Asia-Pacific banks by assets compiled by SNL Financial.
(PRWEB) June 04, 2015
Announced today, SNL Financial has released a ranking of the largest 50 Asia-Pacific banks. The data shows that Chinese banks represented more than one-third of the 50 largest banks by total assets in the Asia-Pacific region.
According to the report, Japan's largest lender, Mitsubishi UFJ Financial Group Inc., lost its status as the third-largest bank by assets in the Asia-Pacific region as of March 31 after the local currency depreciated, falling behind two Chinese peers. Now, the top four Asia-Pacific banks are all based in China.
Mitsubishi UFJ Financial slid to the fifth spot, making room for Agricultural Bank of China Ltd. and Bank of China Ltd. to advance by one rung each to the third and the fourth positions, respectively.
Total assets at the Japanese megabank group increased to ¥279.18 trillion as of Dec. 31, 2014, from ¥258.13 trillion as of March 2014, but a weakening of the Japanese yen drove down their value in U.S. dollar terms to US$2.33 trillion from US$2.51 trillion. The analysis is based on the latest annual data that was available before the company released its results for the year ended March 31.
On the other hand, assets grew to US$2.72 trillion as of March 31 from US$2.46 trillion a year earlier at Agricultural Bank of China and to US$2.58 trillion from US$2.43 trillion at Bank of China.
The yen has been under pressure amid the Bank of Japan's easing. Although the impact of any foreign-exchange changes is less profound on Chinese companies, as the country only allows the Chinese yuan to appreciate or depreciate within a certain range, the currency strengthened against its U.S. counterpart as of March 31 from a year earlier, helping boost the value of assets at Chinese banks in U.S. dollars.
Atop the list are Industrial & Commercial Bank of China Ltd. and China Construction Bank Corp., which hold the first and second slots, respectively, as they did as of 31 March, 2014. During the 12 months through March 31, assets increased to US$3.45 trillion from US$3.17 trillion at ICBC and to US$2.82 trillion from US$2.60 trillion at China Construction Bank.
Read the full report here: https://www.snl.com/InteractiveX/Article.aspx?cdid=A-32588405-12077