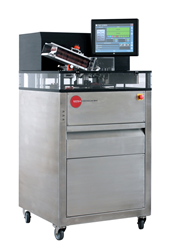 The motivation behind the development of VisionScan Max is Sepha's continual drive to help customers improve efficiences and increase product assurance/integrity levels. [Paul Kelly, Global Head of Sales & Marketing, Sepha Ltd.]
Belfast, Northern Ireland (PRWEB) June 03, 2015
VisionScan Max has been designed to integrate with blister pack production lines via automated 'pick and place' technologies to further enhance automation on production lines and minimize operator requirements, or can operate as a stand-alone unit.
The motivation behind the development of VisionScan Max according to Sepha's Head of Global Sales & Marketing, Paul Kelly, is the company's continual drive to help customers improve efficiencies and increase product assurance/integrity levels. "VisionScan Max is the natural evolution of Sepha's highly successful VisionScan product launched just three years ago. VisionScan has already been validated by 7 of the top 10 global pharma companies. VisionScan Max uses the same leak inspection technologies with faster test times to meet the needs of customers who want the ability to test higher volumes of blister packs non-destructively as part of their quality assurance procedures whilst removing costly operator test times."
VisionScan Max gives the capability to test for leaks in up to 600 blister packs per hour at accuracy levels of 15 micron with minimal operator input or requirements. It gives repeatable objective Pass or Fail results. The operator loads a magazine of pharmaceutical blister packs into the unit, the unit then automatically runs the tests, and sorts product into segregated pass and fail containers. VisionScan Max is 21 CFR Part 11 compliant and also features a new user friendly HMI interface, with 2 click functionality enabling operators to access any menu in a maximum of 2 clicks.
"We look forward to demonstrating the benefits of our new VisionScan Max machine first-hand at Achema 2015," continued Sepha's Paul Kelly. "We believe this is a major advancement in the switch to non-destructive leak testing of blister packs within the pharmaceutical manufacturing sector."
Based in the UK, Sepha Ltd. is part of the US TASI Group of Companies, and is at the forefront of leak detection technology used in the manufacture of pharmaceutical blister packs, medical device and healthcare products. Its award-winning devices are fast becoming the global standard with the majority of the world's top pharmaceutical companies helping to reduce production costs, improve efficiencies and verify the integrity of the products.