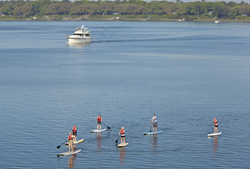 One of America's Happiest Seaside Towns
Beaufort, South Carolina (PRWEB) June 03, 2015
Baby Boomers and families of all ages looking for fun this summer during their property search are invited to the upcoming 60th Beaufort Water Festival in Beaufort. Named America's Happiest Seaside Town by Coastal Living Magazine, it's easy to see how this has become one of the top places to live in South Carolina. Headlining the 2015 "Concert in the Park" is Beaufort native, Neal McCoy who is a well known country singer in the region. With 10 studio albums on multiple record labels, the event is set for July 18th at 8pm. In 1993, McCoy was recognized with back-to-back number one singles "No Doubt About It" and "Wink" from his platinum-certified album, "No Doubt About It". Opening the concert, will be Austin Webb who grew up in Greenville, SC. He is known for a unique style of combining Motown, R&B, rock and retro country from the 50's through the 70's.
The first class event will be spread over 10 days and boasts many fun events for folks flocking to Beaufort, a revered South Carolina destination, to attend the event. The event will take place July 17 through July 26. Since opening the first Water Festival 60 years ago, the agenda has blossomed from a weekend event to the current 10-day festival full of activities for the entire family thanks to the generous sponsors who now support the Water Festival. The detailed schedule of events is listed below.
Baby Boomers who are drawn to Southern living will find Beaufort to be an exemplary coastal community on the Sea Islands South Carolina. Beaufort is located in South Carolina, but there is also a Beaufort, North Carolina, not to be confused. Beaufort County was chartered in 1711 and is the second oldest city in South Carolina. The city's population in according to the 2011 census was 12,361 and it is primarily a city within Hilton Head Island/Bluffton/Beaufort, SC. Beaufort is in the heart of the Lowcountry. Renowned for its quaint historical charm, natural beauty which a huge art influence has served as the backdrop for many movies that are filmed here annually. Known for its antebellum architecture, the city also abounds with military bases located in Parris Island. Beaufort is located on Port Royal Island also has a US Naval Hospital and Marine Corps Air Station. The city has also been featured in the New York Times and named as "Best Small Southern Town" by Southern Living, a "Top 25 Small City Arts Destinations by American Style, and a "Top 50 Adventure Towns" by National Geographic Adventure. Beaufort continues to draw Boomers who desire to retire in one of the top places to live in South Carolina.
An excellent choice for a coastal home can be found at Coosaw Point on Lady's Island, less than 10 minutes from downtown Beaufort. One of the friendliest communities in Beaufort , Coosaw Point was voted the "2013 Happiest Community of the Year", a coveted award presented by Real Estate Scorecard. Coosaw Point is debt free and offers the ultimate lifestyle for active Boomers who desire waterfront property. Residents here enjoy Lowcountry cottage homes with immaculate green lawns and sprawling oak trees cascading with Spanish moss. The waterfront community features a list of amenities which include a community boat dock which leads to Saint Helena Sound and the Beaufort River providing the ultimate day time adventure to Hilton Head Island or Savannah. Boat storage, a ramp and kayak storage is also available to residents. Additionally folks living here will enjoy:
COOSAW POINT AMENITIES
11,000 Square Foot River Clubhouse
Resort-style Outdoor Swimming Pool
Fitness Center
Two Lighted Tennis Courts
Community Parks & Dog Park
Community Boat Dock and Boat Ramp
Lakeside Pavilion with Outdoor Fireplace
Crab Shack for community events
Also named a "Top 20 Fishing Town", anglers can fish right off the community boat dock for both fish and shrimp for catching a truly "fresh fish" for dinner with friends and family. Walking to the river via the pathways found here, folks can enjoy the smell of "salty air" why admiring the rich forestry and architecture this community has perfected enhancing the old world historic feel with the richness of the present intertwined throughout the community. Residents can also enjoy the Water Festival as downtown Beaufort is only 5 minutes away.
Coosaw Point is one of the most peaceful coastal retirement communities located on Lady's Island. Retirees and young families alike both enjoy the southern charm of the neighborhood and at nearby Hunting Island State Park, named one of the best beaches in South Carolina. The schools on Lady's Island are highly regarded which might interest families with younger children. Retiring Baby Boomers and young families looking for a low cost of living in Beaufort South Carolina will find Coosaw Point homes particulary appealing because there are no expensive club membership fees. The Coosaw Point community coordinates monthly social events such as water aerobics, family barbecues and holiday celebrations.
Be sure to visit Coosaw Point while attending the Water Festival and tour the community's amenities and new model homes on the Sea Islands South Carolina.
Contact Coosaw Point at 843-522-0041 to schedule a tour.
About Real Estate Scorecard:
Real Estate Scorecard writes unbiased real estate reviews providing in-depth information about popular gated communities in Florida, Georgia, the Carolinas, Tennessee and Central America, all in an effort to help people discover where to retire in the South.
Website: http://realestatescorecard.com