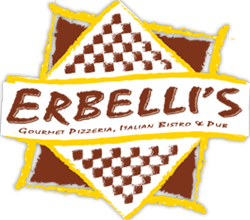 Bradenton, MI (PRWEB) June 02, 2015
Erbelli's Gourmet Pizzeria, Italian Bistro & Pub recently released a new website to promote its handmade gourmet pizzas and calzones, fresh wraps, submarine sandwiches, and Italian cuisine. But even though the website is new, the recipes are not—they have been satisfying the taste buds of customers since 1995. The main feature of the site is the menu, which is broken up into sections includes appetizing pictures and descriptions of all the items. You can order directly from the website with ease from a computer, a tablet, or a mobile phone, and the whole menu is available for delivery or pick-up as well as dine-in.
Other features of the Bradenton Erbelli's new website include a digital survey card where you can leave comments on your own time, directions to the restaurant with the capability of opening it up in your preferred navigation application on your phone, a FAQ page, and a blog. Interested individuals can also view employment opportunities and download an application and learn about franchise opportunities.
To view website, visit http://www.erbellisbradenton.com on any computer, tablet, or mobile device.
About Erbelli's Gourmet Pizzeria, Italian Bistro & Pub
Erbelli's originally opened in Portage, Michigan in 1995 and has grown to include locations in Kalamazoo, Michigan and now Bradenton, Florida. The restaurant includes handmade gourmet pizzas, pasta, a large selection of submarine sandwiches with homemade bread and fresh ingredients, crisp salads, wraps, calzones, desserts, craft beer, and fine wine. Erbelli's also offers catering to a variety of events and special occasions. For more information, visit http://www.erbellisbradenton.com.
About Blue Fire Media
Blue Fire Media is a web-design company in Portage, Michigan that develops profitable website solutions, utilizes search engine optimization, offers branding and marketing services, and provides marketable content. Blue Fire Media can design and help maintain a new user-friendly and mobile-optimized website for your company so that your products and services can reach a global market. Blue Fire also offers services in analyzing web analytics, constructing press releases, managing social media, and providing excellent advice. Visit http://www.bluefiremediagroup.com for more information.