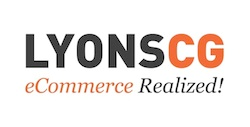 "IRCE offers us a unique chance to engage with attendees and learn from innovators across every industry sector,"
Chicago, IL (PRWEB) June 02, 2015
Lyons Consulting Group (LYONSCG), the premier digital agency enabling retailers, branded manufacturers and B2B merchants to realize their eCommerce potential, will participate in the 2015 Internet Retailer Conference and Exposition (IRCE) from June 2 through 5 in Chicago, IL. LYONSCG will be among more than 600 companies from across the eCommerce space that will share their solutions in the 250,000 square-foot exhibition hall at Chicago's McCormick Place.
"IRCE is the largest event in the eCommerce industry, and it offers us a unique chance to engage with attendees and learn from innovators across every industry sector," says LYONSCG CEO and President, Rich Lyons. "We are thrilled to participate, and we're excited to share our knowledge and contribute to the success of our clients as well as provide thought leadership to the eCommerce industry."
LYONSCG will have the opportunity to showcase two of its eCommerce industry thought leaders during the IRCE conference breakout sessions. CIO Brian Wolfe will present as part of a session on Bitcoin: What Is It? Is It Right For You? on Wednesday, June 3 at 1:30 PM. Wolfe will provide background on Bitcoin, discuss reasons an e-retailer may consider it, and review guidelines for to establish a high-level strategy.
Danielle Savin, LYONSCG Director of Digital Consulting Services, will share her ideas in the Mobile Marketing Musts session on Wednesday June 3 at 3:30 PM. In Savin's presentation, attendees will learn what user-first design is, gain an understanding of mobile measurement and analytics tools, and discover the opportunities in mobile ad deep-linking.
Show attendees will be able to meet with LYONSCG representatives in booth 545. IRCE 2015 will take place from June 2 through 5 at McCormick Place in Chicago.
About Lyons Consulting Group (http://www.lyonscg.com)
Lyons Consulting Group (LYONSCG) is the industry's premier eCommerce digital agency, serving brands, retailers, and B2B organizations with tailored solutions that maximize their online potential. Headquartered in Chicago with offices around the world, the firm offers a full range of digital strategy, digital marketing, application hosting and support, experience design and eCommerce implementation services for the Demandware, hybris and Magento platforms.
LYONSCG is Demandware's Delivery Partner of the year, and has received the Magento Partner Excellence and Innovator of the Year awards. LYONSCG's approach is holistic—we provide every client with a creative, robust and increasingly profitable eCommerce website. LYONSCG is eCommerce Realized!