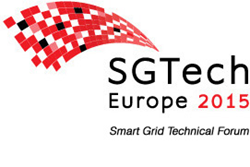 SGTech Europe 2015 looks set to be a great and most valuable smart grid event in Europe this fall. We are expecting a great networking opportunity and lots of utility interaction. Bas Kriumer, Accenture
Amsterdam (PRWEB UK) 4 June 2015
The event, SGTech Europe 2015, takes place on 22-24 September 2015, at the Novotel Amsterdam City in the Netherlands, and boasts a utility-heavy speaker line-up, with 40+ implementation case-studies scheduled over 3 days.
"This is the most practically focused smart grid conference taking place in Europe, and caters perfectly to the information needs of those at the front line of implementing the smart grid," says Mandana White, Managing Director of Phoenix Forums. "In recognition of the industry's push towards IT, OT and Telecom convergence we have designed the programme to ensure that whilst the conference sessions retain their niche domain focus and technical depth, there are plenty of networking opportunities to enable wider interactions across the broader smart grid technical community. This should lead to greater cross-fertilisation of ideas and ease the next phase of smart grid implementations."
The first two days of the conference see three parallel tracks running on implementations of substation automation, next generation SCADA, and packet telecoms for utilities, whilst the third day focuses entirely on experiences, lessons learnt and future roadmaps in the application of end-to-end cyber-security to the smarter grid.
Complementing the utility-driven conference programme, are a series of technology innovation panel discussions scheduled during the morning of day two, to bring attendees up to speed on the latest R&D and product pipelines of the leading technology players. Roundtable discussions take place at the end of day one enabling more intimate information sharing and problem solving across the smart grid ecosystem, whilst an Amsterdam canal cruise provides time for relaxation and informal networking. Throughout the 3 days, the solution zone will be buzzing with a display of the latest automation technologies and services on the market, and a series of live demo lab sessions by Siemens, Alstom and DNV GL will provide sneak previews of the latest technology innovations on a 1:1 basis.
Peter Söderström, Asset Development & Smart Grids Portfolio Manager at Vattenfall Distribution Nordic, who will be giving a plenary presentation on the Big Data Revolution on the morning of conference day one says: "The business environment for the DSO is changing faster than ever before, but the expected long life times of our assets remains. Taking part in SGTech Europe 2015 means that we can be on top of the latest developments and also contribute with our own experiences."
Bert Heerbaart, Programme Manager at DENSEK comments: "I've contributed to many smart grid conferences and round tables, but this event is in my opinion the most comprehensive of all, covering all relevant aspects of the smart grid, with speakers of the right level sharing interesting case studies."
Bas Kruimer, Senior Manager at Accenture remarks: "For Accenture it is important to always be at the forefront of contributing knowledge and sharing project experiences. We look for events where we can interact with a good selection and representation of international utilities on a spread of utility hot topics. Phoenix Forums has always delivered high quality events based on practical experiences from a wide range of utilities, and SGTech Europe 2015 looks set to be a great and most valuable smart grid event in Europe this fall. We are expecting a great networking opportunity and lots of utility interaction. Next to excellent contents the programme promises plenty of fun too."
Highlights of SGTech Europe 2015 include:

Strategic Plenary Sessions – hear the strategic plans and priorities of leading electric utilities and understand where budgets are being focused and resource is being allocated to drive the practical implementation of the smart grid in the next 2-3 years
Case-Study Programme – hear from the technical experts and decision makers on the lessons learnt from pilot projects and commercial deployments of key automation technologies and architectures in the substation automation, SCADA, packet telecom and cyber-security domains
Utility Heavy Speaker Line-Up – selected on the strength of the projects they are involved in, their pivotal roles in implementation decision making and their innovative insights on lessons learnt and future road maps
Round table Discussions – bring your specific automation challenges to the table and brainstorm and problem solve intensively with the entire smart grid technical community
Solution Zone – spanning all 3 days of the event, get up to speed with the latest automation systems and solutions on the market, discuss your specific grid automation challenges with the tech innovators and get tailored advice to help propel your implementation plans to the next level
Live Demo Labs – providing a unique opportunity to gain hands-on experience of the most advanced and forward looking automation systems, technologies and tools on to the market
Networking Canal Cruise – relax and unwind after an intensive day of presentations and panel discussions, meet with colleagues from across the European smart grid technical community, allow new ideas to cement and new partnership opportunities to emerge
40+ Utility Case-Study Speakers Include:

Walter van Boven, Manager of Digital Grids – Alliander
Frank Visser, Telecommunications Architect – Alliander
Erwin Kooi, Information Security Architect – Alliander
Børre Jensen, Manager of Network Department - BKK Fibre
Oliver Krone, Head of Smart Grid Engineering - BKW FMB Energie
Ales Chmura, Head of SCADA Department – ČEPS
Steve Van den Berghe, Project Leader, Smart Grids – Eandis
Steven Frère, Senior Smart Meter Communication Specialist – Eandis
Thierry Coste, Research Engineer & Project Manager - EDF R&D
Aurélio Blanquet, Director of Automation - EDP Distribuição
Pedro Gama, Head of SCADA and Telecom Department - EDP Distribuição
Nuno Medeiros, ICS and Smart Grids Security Officer - EDP Distribuição
Maksim Gluhhovtsenko, Information Security Officer - Elektrilevi OÜ
Heikki Paananen, Manager of Operational Planning – Elenia
Jan Kostevc, Head of Operational Support Department - ELES
Sjors van der Heijden, Advisor, Asset Management – Enexis
Carlos Montes Portela, IT Architect, Smart Grids - Enexis
Olivier Carré, Project Manager – ERDF
Tony Hearne, Manager, IVADN Project - ESB Networks
Robert Groarke, Manager, SCADA & Energy Metering Services, Telecom Services - ESB Networks
Jonathan Sandham, Operational IP & Security Architect - ESB Networks
Bengt Almgren, Head of Regional Networks – Fortum
Julio E. Dominguez, Senior Substation Automation Engineer - Gas Natural Fenosa
Mika Loukkalahti, System Manager, Electric Power Systems - Helen Electricity Networks
Ana Kekelj, Head of Power System Control Centres – HOPS
Luis Malumbres, Director of Innovation – Iberdrola
Peter Oomens, Manager Engineering – Joulz
Mark Osborne, Electricity Transmission Asset Management Specialist - National Grid
Karel Jiranek, ICT Manager – PREdistribuce
Javier Figuera Pozuelo, Engineer - Red Electrica Espana
Patrick Lhuillier, Senior Engineer and R&D Expert - RTE
Jürgen Tusch, Head of Telecoms – RWE
Walter Schaffer, Head of Electrical Grids & Smart Grids Program Manager - Salzburg Netz
Andrej Pukač, Dispatching Control Centre Specialist - SEPS
Lhoussain Lhassani, Senior Specialist Asset Management - Stedin
Milo Broekmans, Senior Enterprise Architect - Stedin
Reto Amsler, Senior Specialist, IT Security – Swissgrid
Jan Vorrink, Manager National Control Centre, Systems Operations – TenneT
Juan Luis Vicuña Monasterio, DMS and Interfaces Manager - UNION FENOSA distribución
Peter Söderström, Asset Development & Smart Grids Portfolio Manager - Vattenfall Distribution Nordic
Event dates and location:
22-24 September 2015
Novotel Amsterdam City, Netherlands
Event website: http://www.sgtech-europe.com
For more information, interviews and media accreditation:
Mandana White, Managing Director, Phoenix Forums Ltd
Email: mandana(at)phoenix-forums(dot)com
Tel: +44 (0)20 8349 8097
Fax: +44 (0)20 8346 3440
Phoenix Forums is an independent conference producer specialised in the smart grid sectors. We work hand in hand with engineering professionals to create innovative event concepts and high quality programmes that inform technical decision makers and enable them to deliver exceptional results. Our approach is entirely market led. We stay exceptionally close to industry developments. Through our regular, rigorous and unbiased process of depth interviews with key utilities, power producers, regulators, investors and solution providers we stay one step ahead of industry developments and provide live event platforms that act as a catalyst for new ideas, new directions, and new approaches to achieving future energy security.