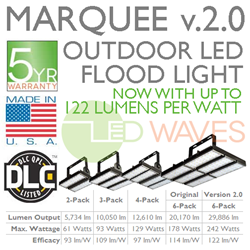 Like each of the Marquee Outdoor LED Flood Lights, the 2.0 is on the DLC Qualified Products List, enabling rebates and other incentives on purchases for commercial, municipal and industrial projects.
Brooklyn, NY (PRWEB) June 02, 2015
Fresh after the launch of the Marquee™ – a rugged line of outdoor flood lights featuring packs of two, three, four, or six LED boards – manufacturer LED Waves is now proud to offer a more powerful and efficient version of the six-pack size.
The original Marquee Outdoor LED Flood Lights grew quickly in popularity due to their reliability, their efficiency, and the versatility of its no-frills, waterproof design. The brighter new 2.0 option was developed in response to customers seeking an even higher lumen outdoor LED flood for industrial applications, particularly in agricultural environments.
While the Marquee 6-pack 2.0 version is identical to the original in size and general appearance, its assembly is distinguished by two significant factors: Its LED boards feature more powerful chips from Seoul Semiconductor (24 per board, or "pack") rather than the original LUMILEDS brand, and it is driven at a higher Wattage.
The upgrades to the Marquee 6-pack result in more than 9,800 additional lumens – bringing the total output to almost 30,000 lumens. The efficacy is also improved by 7%, from 114 to 122 lumens per Watt. (As the upgrades in turn raise the power consumption from a maximum of 178 to 242 Watts, the original 6-pack Marquee is more suited for slightly lower-power applications, such as installations with overlapping flood light beams.)
Like each unit from the entire original line of Marquee Outdoor LED Flood Lights, the 2.0 version of the 6-pack is on the DesignLights Consortium Qualified Products List (DLC QPL). This enables eligibility for rebates and other incentives on purchases for large commercial, municipal, and industrial building projects.
The entire Marquee™ Outdoor LED Flood Light collection is made in the USA. Each unit is designed, assembled, tested and shipped exclusively from LED Waves' Brooklyn headquarters for the quality assured by the company's 5 year warranty. Call 1(800)986-0169 for large quantity pricing and availability.