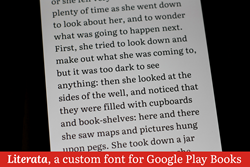 TypeTogether worked with Google to create a typeface that is functional, pleasing, and memorable...
Prague, Czech Republic (PRWEB) June 10, 2015
TypeTogether®, an independent design company focused on font design, this month announced the release of Literata, a multilingual type family which will be used in all versions of the Google Play Books app (Android, iOS, and soon in the Chrome app and web browser) and on all ebook readers from Google. This announcement comes at the close of over a year of research, development, testing, and refining Literata for extended reading.
Google commissioned TypeTogether, which often creates custom typography for corporate and editorial use, to design Literata to replace current uses of Droid Serif. Known for its detail-oriented processes, Google gave TypeTogether an exhaustive set of requirements to be incorporated in its new flagship book type family: the growing range of software and hardware considerations, pixel densities and rendering technologies, and comfort during extended times of reading.
TypeTogether used the Play Books project as an opportunity to approach these problems from a new perspective while establishing a recognizable visual identity for Google's native ebook app. With the growing list of digital books and digital readers, Google Play senior UX designer Addy Lee Beavers agreed with TypeTogether that branding through the look and feel of text has taken on more importance and should therefore be a priority.
TypeTogether cofounders Veronika Burian and José Scaglione worked with Google to create something functional, pleasing, and memorable, beginning with Scotch and old-style Roman types that are known for excellent readability. Most current ebook typography suffers from looking too sterile and mechanical — too mathematical and not human enough. So TypeTogether settled an important quality early on: varied overall paragraph texture that makes extended reading times more comfortable and welcoming. Once the primary look was decided, additional explorations ranging from classic to modern details helped narrow the parameters.
A type family often has several weights such as regular, regular italic, bold, and bold italic. TypeTogether suggested an upright italic to address the inherent limitations of the square pixel grid. This less common approach of creating italic shapes and style without slanting also adds high branding value to the type family by making it more unique and recognizable.
The final Literata family features two weights (regular and bold) with matching upright italics, including more than 1,100 characters for each of the four weights. It also includes PanEuropean language support — meaning Western, Central, and Eastern European languages are all included — as well as full Latin Extended, Polytonic Greek (designed by Irene Vlachou with external consultancy by Gerry Leonidas), and Cyrillic (designed by Vera Evstafieva with external consultancy by Kiril Zlatkov). Literata can be found in Google Books version 3.4.5+ and is expected to be released publicly within 18 months.
For more information on Literata and TypeTogether, visit type-together.com.