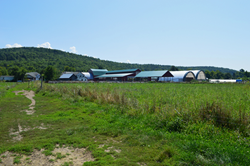 New York, NY (PRWEB) June 04, 2015
Natural Gourmet Institute (NGI) has announced that they will reward one full scholarship to the Sustainable Farming Certificate Program to a member of the Slow Food NYC community.
The Sustainable Farming Certificate Program is a two week hands-on course where students live and work on Hawthorne Valley Farm, a biodynamic farm in Ghent, New York; experience urban farming at Brooklyn Grange's rooftop farm and Gotham Greens' commercial scale rooftop greenhouse facilities; and tour GrowNYC Greenmarket Co.'s food hub and distribution facility.
Created by a local culinary school known for their commitment to local, sustainable, whole and seasonal foods, Natural Gourmet Institute's course is designed to give food industry advocates, educators, professionals, and supporters a first-hand look at our local food system and create a deeper connection between farm, food and consumer.
"We chose the Slow Food NYC community because of their dedication to building a good, clean and fair food system in New York City," says Mollie Berliss, Events and Community Manager at NGI. "Amongst the application requirements is a demonstrated involvement in school garden programs or the better food movement. It is our goal to help the recipient take the in-depth understanding of the local agriculture and food system learned in the program back to share with their community and strengthen their current programs."
Slow Food NYC is a local non-profit which works with local schools to provide agriculture and culinary education for children through the Urban Harvest Program and connects local chefs to local farmers and distributors through the Snail of Approval program.
The Slow Food NYC – Natural Gourmet Institute Sustainable Farming Certificate Program Scholarship recipient will be announced on July 27, 2015.
For more information about the scholarship and to apply visit slowfoodnyc.org