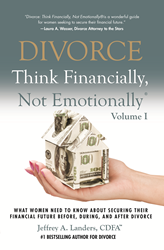 I cringe when I hear some of the advice my clients get from their friends," Landers says. "Whether it's a recommendation for an attorney from a friend of a friend of a friend or investing advice from a neighbor who works three jobs to make ends meet, I've
New York, NY (PRWEB) June 03, 2015
Anybody going through a divorce knows what to expect from well-meaning friends and family: lots of advice.
Quantity isn't the same thing as quality, though. Just ask Jeffrey A. Landers, a divorce financial advisor and author of Divorce: Think Financially, Not Emotionally® Volume I.
"I cringe when I hear some of the advice my clients get from their friends," Landers says. "Whether it's a recommendation for an attorney from a friend of a friend of a friend or investing advice from a neighbor who works three jobs to make ends meet, I've probably heard it all."
Landers recommends thanking advice-givers for their suggestions and then looking to qualified professionals for quality guidance. He offers three reasons why:

Every woman's divorce situation is unique. Given the complexities of today's divorce, tax, and finance laws, your breakup requires much more than an assortment of free tips and casual recommendations from friends and family, no matter how well-intentioned. Each divorce needs individualized attention from the right professionals, including an attorney specializing in divorce and the right type of financial advisor.
A little knowledge can be a dangerous thing. Many women who are going through divorce find themselves in particularly sticky situations because they have friends and relatives who work in legal or financial fields unrelated to divorce. They might be great at what they do, but listening to their advice about divorce could hurt more than it helps. For example, a family friend who specializes in business finance may be a genius at corporate taxes or mergers and acquisitions, but lacks expertise regarding the division of pensions, how to make long-term personal financial projections, and whether or not it's in your best interest to keep your marital residence. Likewise, a relative who's an accountant and does a great job of filing your taxes might be able to provide a snapshot of your present and past finances, but isn't trained to calculate and project what your future financial positions will look like.
It's not hard to find the right professional advice. On the financial side, where many women need the most help, there are about 3,500 Certified Divorce Financial Analysts™ (CDFA™) in the U.S. who are specifically trained in the financial aspects of divorce. To find one, go to https://www.institutedfa.com/cdfaSearch.php. To find a lawyer specializing in "matrimonial law," visit http://www.aaml.org/find-a-lawyer.
Get the right professional help. Your future is too important to leave in the hands of Uncle Harry, even if he did hit it big on a stock market trade in 1958.
Landers offers additional tips in Divorce: Think Financially, Not Emotionally®, Volume I and Divorce: Think Financially, Not Emotionally®, Volume II, which continues the conversation. Both books use straight talk and real-life examples to explain important financial matters every divorcing woman needs to understand. Learn more at http://www.ThinkFinancially.com.