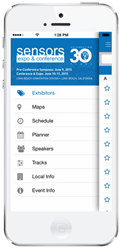 Columbia, MD (PRWEB) June 03, 2015
a2z, Inc., an event management software company based in Maryland, is pleased to introduce the ChirpE mobile app solution at the 30th Annual Sensors Expo & Conference – the largest gathering of sensors and sensor-integrated technology professionals in North America. This event will take place June 24-26, 2015 in Long Beach, CA.
The a2z-powered ChirpE mobile event app provides easy access to the complete conference schedule, Expo announcements, and social media posts – all in real-time and synced with the event website – offering an enhanced experience.
The ChirpE mobile app features many organizational tools to help attendees be efficient at the conference. App users can search for sessions by keywords or categories, view their details and can then add their preferred sessions to the Personalized Planner and use the My Notes feature to take notes. In addition, attendees can use the Planner to select exhibitors they would like to meet on the Expo Floor and use the interactive floor plan to easily locate their booths – all of which are accessible within the mobile app. The Sensors Expo mobile event app is available for iPhone/iPad and Android phones as well as all internet-enabled smart phones.
The 30th Annual Sensors Expo & Conference is a three-day event that will attract professionals, such as engineers and scientists, from various industries including aerospace, consumer electronics, defense/military, entertainment, high-tech and medical/healthcare. The conference will feature sessions focused on cutting-edge trends, such as Embedded Systems, Energy Harvesting, Internet of Things (IoT), Measurement & Detection, MEMS, Optical Sensing & Detection, Sensors @ Work, Wearables, Wireless and more. Attendees can also explore these trends in technology-focused areas throughout the Expo Floor at the conference.
For more information about the conference, please visit http://www.sensorsexpo.com/
About a2z
a2z, Inc. provides powerful web-based event management tools that grow your show by increasing and accelerating booth sales, helping boost revenue, and enhancing engagement and value for everyone. a2z, Inc. powers more than 850 leading events every year. a2z's solutions are used by more events on the 2013 Trade Show Executive Gold 100 list than any other exposition and conference management software provider in the industry. To fulfill our goal of developing quality solutions that help save money and meet your needs, a2z offers three platforms as one integrated solution: Expo & Conference Management, Networking & Lead Management, and ChirpE Mobile- which includes our web-based and native mobile apps for smart phone and tablet devices.
About Sensors Expo & Conference
Since 1986, Sensors Expo & Conference (http://www.sensorsexpo.com) has been the leading industry event in North America exclusively focused on sensors and has emerged as one of the largest and most important gatherings of engineers and scientists involved in the development and deployment of sensor systems. The Sensors Expo & Conference is produced and managed by Questex Media Group LLC, a global, diversified business-to-business integrated media and information provider, headquartered in Newton, MA.