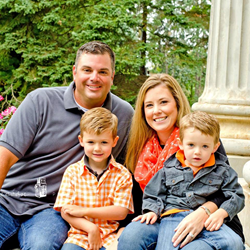 Washington, DC (PRWEB) June 02, 2015
Did you wish Ryder Weise a happy sixth birthday today? If you're wondering what to get him, his family isn't asking for presents, but instead a donation to the Ryder Renegades, the team walking in Saturday's Cure HHT DC Walk.
Ryder was diagnosed with HHT in December 2014, a genetic disease that causes malformed blood vessels leading to sudden and extreme bleeding throughout the body. Though symptoms began to appear when Ryder was 3 years old in the form of daily nosebleeds, fatigue and shortness of breath, it took doctors two more years to diagnose him.
They have since found arteriovenous malformations (AVMs) in Ryder's lungs and small lesions in his brain. Ryder and his father are both being treated at the HHT Center of Excellence at John's Hopkins.
"As a mother, the hardest part about having a child with HHT is the lack of support you feel from all around you," Nicole Weise said. "Physicians usually don't know much about it. Friends, coworkers, neighbors, have never heard of it."
In fact, though it is estimated that one in 5,000 people have HHT, only 10% have been diagnosed because of general lack of awareness.
It's events like the Cure HHT DC Walk that helps spread awareness to increase the diagnosis rate, said Cure HHT Executive Director Marianne Clancy. People like Nicole, Ryder and their family are the true champions of the Cure HHT mission – to one day find a cure for HHT, she said.
"Without events like the walk, Cure HHT would not have the funding it needs to grow treatment centers, partner with pharmaceutical companies for drug tests or provide research grants," Clancy said. "We depend on families like the Weises to spread the word of Cure HHT so people know they have somewhere to turn."
What: Cure HHT Team DC Walk
When: 9 a.m. to 12 p.m., June 6
Where: Constitution Gardens
Those interested in attending the event or conducting interviews can contact Christine Kirkley at christine.kirkley(at)curehht.org or 410-357-9932.
About Cure HHT:
Cure HHT was founded in 1991 as HHT Foundation International and has become the epicenter of the national and global effort to advocate for HHT patients and families, raise awareness, catalyze and sponsor critical research and advance treatments. Though Cure HHT has created nearly 20 Centers of Excellence in the U.S. and Canada to treat this devastating disease, research remains woefully underfunded. The National Institutes of Health (NIH) currently spends only half-a-million dollars on research for HHT, but spends as much as $75 million a year each on other rare diseases that affect a similar number of people, such as ALS, Cystic Fibrosis and Huntington's.