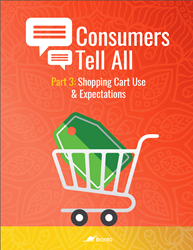 Durham, NC/ Chicago, IL (PRWEB) June 03, 2015
Bronto Software, the leader in commerce marketing automation, today released the second and third parts of its three-part "Consumers Tell All" research. These two parts of the study reveal new trends on consumers' device preferences for online shopping and expectations for the use of the shopping cart. The survey showed the vast majority of online shoppers (73%) use shopping carts to store items for later purchase as they employ multiple devices in an increasingly non-linear purchase path.
Because consumers are in control of today's e-commerce landscape, the findings from this study are significant for retailers. "Shoppers now increasingly use all available devices to make the best decisions and enhance their shopping experience," said Jim Davidson, head of research at Bronto Software. "Commerce marketers need to clearly understand consumer shopping and purchasing behaviors, particularly the move toward mobile, in order to maximize revenue potential and identify effective commerce marketing strategies."
"Consumers Tell All" reveals that both genders and all age groups use multiple devices to extend their shopping experience and influence purchase decisions. This trend creates new customer lifecycles dotted with multiple shopping sessions that vary by location, channel and device. Bronto's analysis of the new data offers insights about the emerging mobile consumer to help commerce marketers more effectively influence purchasing decisions and compete in the evolving digital marketplace.
The second part of the study focuses on device usage and preferences. While laptop and desktop shopping is still most popular, the percentage of consumers buying and purchasing on mobile devices is increasing. When consumers do choose mobile, they prefer shopping on a mobile browser over an app. The third part of the study examined consumer shopping cart use, reminder perception and expectations, showing that the majority of shoppers use the shopping cart as a storage device for later transaction
For this research, Bronto partnered with Ipsos, a global market research company to survey online shoppers about their shopping habits, mobile device preferences and interactions with online shopping carts, cart abandonment and post-abandonment reminder messages. The study was conducted in January 2015 and consisted of 1,012 consumers in the United States who bought online within the past 12 months.
The full "Consumers Tell All" report is available for download at bronto.com/tell-all.
About Bronto Software
Bronto Software provides a cloud-based marketing platform for organizations to drive revenue through their email, mobile and social campaigns. Bronto is the number one ranked email marketing provider to the Internet Retailer Top 1000, with a client roster of leading brands worldwide, including Armani Exchange, Timex, Samsonite and Boot Barn. The Bronto Marketing Platform is deeply integrated with commerce platforms, including Magento, Demandware, NetSuite and MarketLive. The company is headquartered in Durham, NC, with additional offices in London, Sydney, New York and Los Angeles. For more information, visit http://bronto.com.