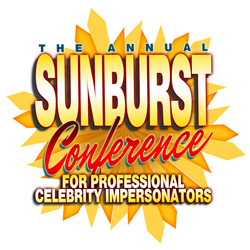 Orlando, FL (PRWEB) June 02, 2015
Imagine Marilyn Monroe, Madonna, Neil Diamond, Elvis, Cher, Michael Jackson, Tina Turner, Joan Rivers, Richard Gere, Lucy Ricardo, Lady Gaga, Janis Joplin, G.W. Bush, Bill Clinton, Mick Jagger and over 100 other icons of the past and present all gathered together to perform and be seen. No, it's not another reality show… It's the 13th Annual Sunburst Conference of Professional Celebrity Impersonators (formerly Sunburst Convention) returning this year to The Florida Hotel & Conference Center located at The Florida Mall in Orlando from Wednesday, September 23 through Sunday, September 27.
Each year, the world's best professional celebrity impersonators, lookalikes and tribute artists fly, drive and cruise into Central Florida for the Sunburst Conference to gather, mingle, network, educate themselves and have an unforgettable time. They are joined by numerous talent buyers, talent agents, producers and meeting planners from all over the country who are invited to watch the imitators perform live and make a lasting impression. Sunburst features performance showcases, themed parties, an awards banquet, promotional room and tons of photo opportunities. The general public is also invited to attend to rub elbows with the "Just About Famous" stars, and with more public access this year, now even more spectators can enjoy the unique, fun and one-of-a-kind entertainment Sunburst has to offer.
"Sunburst Conference is the largest premier event for celebrity impersonators and lookalikes from around the world," says Sunburst Producers Greg M. and Jackie Thompson. "It's a very fun and often surreal experience. We are thrilled to enter into our 13th year and look forward to seeing many new and returning faces, plus provide even more opportunities this year for the public to come out and enjoy Sunburst and all our incredible talents and people."
Over 100 different professional entertainers perform at Sunburst each year. The impersonators will be available for photographs during intermission and after each day's showcase. The public is invited to attend showcases on Friday afternoon, evening and Saturday afternoon, in addition to the Wednesday Welcome Party and Thursday night "Love Boat" themed party with specially priced VIP Spectator and Showcase Only tickets available.
Sunburst is held at The Florida Hotel & Conference Center located at The Florida Mall at 1500 Sand Lake Road, Orlando, 32809. For more news, information and tickets for the 13th Annual Sunburst Conference for Professional Celebrity Impersonators, visit http://www.SunburstConference.com.
###
Media Contact: Ilene Lieber, 321-277-7812, ilene(at)passionprconsulting(dot)com