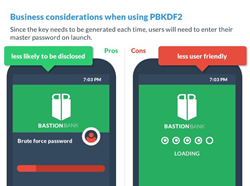 Toronto (PRWEB) June 03, 2015
With threats to the mobile environment growing steadily over recent years, and new features like mobile payments raising the stakes even more for consumers and businesses, Security Compass, with extensive knowledge in web and mobile application security, is announcing a new mobile security training program for application developers and architects, IT administrators and security professionals which can dramatically reduce these risks.
Called "Defending Mobile," the eLearning course delves into the core issues of mobile application and framework vulnerabilities, new attack methods and software security best practices, from a business risk perspective.
In an effort to improve awareness, Security Compass is donating up to five seats for the Defending Mobile course to members of the Information Systems Security Association's Los Angeles Chapter (ISSA-LA) during the group's Seventh Annual Information Security Summit on June 4-5th. Winners will be chosen in a random drawing. This donation is part of a broader partnership with ISSA-LA, as Security Compass is donating a total of 24 seats of the Defending Mobile eLearning program, at a value of more than $7,000, to the group's members between May and December.
"At Security Compass, our mission is to be trusted partners in the development of secure software and to provide smart, relatable, security education for all," said Oliver Ng, VP of training for Security Compass. "We are excited to work with ISSA-LA to serve the broader Los Angeles community. By providing free education with our Defending Mobile course, we hope to share knowledge that can be used to help communities and businesses, build secure mobile applications."
As part of ISSA-LA's educational outreach program, the organization is holding its Seventh Annual Information Security Summit on June 4 – 5, 2015 at the Los Angeles Convention Center. The Summit theme, "The Growing Cyber Threat: Protect Your Business," reflects the reality that cybercrime impacts the financial health of all our organizations: businesses, government agencies, healthcare, schools, nonprofits, and others. The Summit will highlight emerging solutions to the challenges of cybercrime.
Key highlights of the Defending Mobile program:

This 60-minute eLearning course teaches developers and IT professionals, how to build mobile applications with security best practices in mind, and how to understand the business risks to threats they may encounter in the wild.
Participants will learn how hackers target vulnerabilities in mobile apps, the mobile operating system and the device itself. Training will also include the current threat environment for mobile platforms, including the OWASP Top 10 Mobile Risks.
The course provides key defenses to mitigate data security risks at three key levels: data at rest, data in transit and data at runtime.
It is code agnostic and covers multiple mobile operating systems.
For a full course outline, visit http://security-compass.myshopify.com/products/defending-mobile
Security Compass, which is also partnered with (ISC)2, is at the forefront of security education and provides numerous role-based eLearning courses, including OWASP Top 10 (2013) and Certified Software Security Lifecycle Professional (CSSLP). The company was the first to develop a secure application lifecycle management tool for web and mobile apps, known as SD Elements, which has been recognized by Ovum and Gartner.
For more information on the Seventh Annual Information Security Summit and to register visit http://summit.issala.org. There is a special promotional package that includes admission to both the Summit on June 4th and the one-day training programs on June 5.
ABOUT SECURITY COMPASS:
Headquartered in Toronto, Security Compass is a leading information security firm specializing in web and mobile application security for Fortune 10s-500s, large financial institutions, energy firms, technology/software providers, media companies, retailers and other businesses. Security Compass guides teams in building customized security blueprints based the industry, software development lifecycle, and business needs to cost-effectively mitigate risks. Its secure application lifecycle management tool, SD Elements, was selected for Ovum's 2014 On the Radar report and recognized by Gartners 2014 Cool Vendors in Application and Endpoint Security report. Website: http://www.securitycompass.com
ABOUT ISSA-LA:
The Los Angeles Chapter of the Information Systems Security Association (ISSA-LA) is the premier catalyst and information source in Los Angeles for improving the practice of information security. The Chapter provides educational programs for information security and IT professionals. The Chapter also conducts outreach programs to businesses, financial institutions, nonprofits, governmental agencies, and consumers. ISSA-LA is the founding Chapter of the Information Systems Security Association, an international not-for-profit organization of information security professionals and practitioners. Please follow the Chapter on Twitter at @ISSALA as well as LinkedIn, YouTube and Facebook.