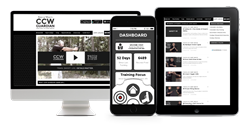 Documentation is critical...It's a serious matter.
Pulaski, IA (PRWEB) June 04, 2015
David C. Reed has committed his life to training people on the proper and effective use of firearms, and his credentials are plentiful. He's a US government, civilian law enforcement and NRA certified multi-weapons and tactics instructor, conducts training courses across the country and around the world, boasts a 20 year background with SRT/SWAT, and maintains membership to ILEETA, the NRA, NAFTO & numerous other professional organizations.
"Documentation is Critical," Reed states. "The reality is that most concealed carry permit holders want to be responsible and document their training. They want to protect not only their family, their own lives, and their homes by owning a personal firearm, but also protect their rights and freedom should the need arise to defend themselves in a court of law. It's a serious matter."
It was this need that caused Reed's partner, Doug Ward, to approach software and application developers at MPA about creating CCW Guardian. "I wanted to be better at training and logging my training. I just couldn't find a good solution," Ward recalls. Previously, he had tried standard pen and paper, but ultimately found it was just too cumbersome. From that need, CCW Guardian was born.
"Our mission & purpose is to assist CCW permit carriers to be better prepared and better protected through world class training and documentation," Reed states. Specific uses for the application include logging training, keeping track of permits, handguns and PDWs (Personal Defense Weapons), recording target results through photos, and much more. While the application itself is free to download and use, users can also elect to purchase a Protected Membership to receive additional benefits. Reed & Ward also regularly posts professional videos on tips, training and firearm safety on their YouTube channel.
The app is available for download to iOS and Android devices, or it can be used on a computer. For more information on CCW Guardian, visit http://www.ccwguardian.com.
CONTACT:
David Birchmier
Reed & Ward
515-412-0849
davidbirchmier(at)reedandward(dot)com