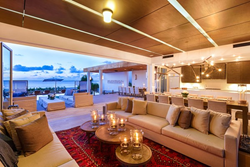 Anguilla (PRWEB) June 03, 2015
Meads Bay, Anguilla's gorgeous, mile-long beach, is the venue of choice for the island's foodies, with an array of beach bars and upscale restaurants anchored by two 5-star resorts with their own enticing options for dining.
Now, with the June 1 opening of Kishti on Meads, the island's coolest beach can also boast a much-anticipated, luxury villa enclave that reinvents excitement on Anguilla.
The twin newcomers, designed by Toronto architect Taylor Smyth, feature six bedrooms each, two gardens (rooftop and patio), designer kitchens, home cinemas, home offices and gyms. Above all, each villa has a full contingent of non-intrusive but ever-attentive staff to ensure the supremely pampering "Kishti Experience."
As Sue Ricketts, a director of RickettsLuxury Properties, the exclusive representative for the Kishti Villa Collection, sees it: "Having spent more than 30 years training, perfecting and managing staff for world-class hotels, my husband Robin and I know top-flight service when we see it – and the Kishti villas have it in abundance. It's the little things, like moving tanning loungers around throughout the day to catch the perfect angle to the sun, like offering meals in multiple locations even full-course dinners beneath an awning set up on the white sands."
Kishti, by the way, is an Urdu word for boat or canoe so the theme flowing through the Cecconi Simone-designed interiors is the ever-present sea. In the grand salon, double-height windows add drama to the ever-changing views of the sea, sky and sunsets; museum-caliber artworks and objets d'art blend the sophistication of Eastern and Western cultures with the barefoot tranquility of the Caribbean. Each villa offers an unusually refined, distinctive environment for one extended family or a group of friends but Kishti at Meads may also be rented as a single self-contained enclave for groups up to twenty-four.
"For sure, the Kishti Experience raises the bar for style and sophistication in Caribbean vacations," says Robin Ricketts. "The two villas at Kishti on Meads combine with Kishti at BlackGarden (a year-old, 5-bedroom villa farther down the coast) that make up the new Kishti Villa Collection, which, we are proud to repeat, is represented exclusively by RickettsLuxury Properties."
Summer rates for Kishti on Meads begin at $3,500 (3 bedrooms) to $5,600 (6 bedrooms), fully staffed (manager, assistant manager, chef, butler, housekeepers, gardener, maintenance, security, 24/7 concierge services); taxes and service charge are extra. Although guests have the services of a private chef food is charged separately so that they can enjoy some of their meals at the restaurants along the beach, all within easy strolling distance of the Kishti sundecks. Complimentary leisure gear includes stand-up paddleboards, kayaks, snorkeling equipment and private beach volleyball. Next winter's rates will range from $5,000 to $8,000 per night, fully staffed.
Breaking News: Special introductory Rates. For full details of special offers valid through November 15, 2015, contact Sue Ricketts at 264-497-6049 or 239-344-7810. For detailed descriptions of the villas and their facilities (together with additional photographs) log on to http://www.rickettsluxury.com
New Name, Old Hands
RickettsLuxury Properties is the rebranded name for Anguilla Luxury Villa Collection, which was founded 30 years ago by long-time island residents and "belongers" Robin and Sue Ricketts, who helped create and establish two of Anguilla's iconic resorts, Malliouhana and Cap Juluca. As "old hands" on Anguilla, they have become the recognized authority on rental villas and real estate on the island, a fact which was recognized by Conde Nast Traveler when it named Sue to their list of World's Top Villa Specialists. RickettsLuxury Properties now offers discerning visitors access to a large portfolio of properties, including some of the most exclusive rental villas and estates on Anguilla, the neighboring islands and around the world. Full details at http://www.rickettsluxury.com.
Media contacts: Martha Morano (http://www.moranopr.com) or Ian Keown (iankeown(at)gmail(dot)com)