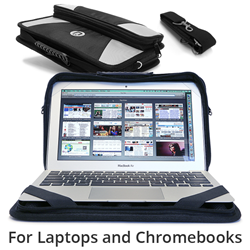 This case's always-in design – a.k.a. stay-in or work-in means the laptop can stay in the back at all times for 100% protection
Chicago, IL (PRWEB) June 10, 2015
The rugged Chromebook bag from Sunrise Hitek features back port access and ventilation.
Features on this bag were designed with school 1:1 Chromebook deployments in mind.
This case's always-in design – a.k.a. stay-in or work-in means the laptop can stay in the back at all times for 100% protection https://www.sunrisehitek.com/product/rugged-laptop-case.
The innovative back zipper allows connection to ports in the back of laptop while in the bag, and functions as a ventilation port. This case is available for 11", 13.3", 14", and 15" laptop and Chromebook computers. A clear asset tag window makes tracking a large number of devices easy, without removing the device from the bag and a cooling channel provides ample padding while allows air circulation around the computer when in use. The new channel design allows for extra capacity battery such as 6-cell battery on Latitude 13 Education Series (3340). This bag is also easy to carry, with an integrated carrying handle and shoulder strap and also features additional storage – for storing the charger, cables, headphones, and other small items. Like most of Sunrise's tech gear products, this bag is fully customizable – has the ability to custom-brand the carrying case with logo artwork.
About Sunrise Hitek
Sunrise Hitek's üuberstore, formerly known as iGear, is a leading maker of protective gear for Apple's iPad. The brand changed to üuber when the company starting developing cases for other devices, such as the MacBook, Chromebook, and Samsung devices. Sunrise Hitek Group, LLC, owner of the üuber brand, also operates Sunrise Digital, a leading digital printing company based in Chicago. As a G7 Qualified Master Printer, Sunrise is uniquely qualified among protective gear makers to offer a wide array of customization options, ensuring the most consistent and accurate color reproduction. Sunrise is an Inc. 5000 company established in 1988 and employs the most advanced equipment and technology, such as G7-certified HP Indigo and UV flatbed presses, and digital die-cutting, to create best-in-class products. A privately-owned enterprise, the company is based in Chicago and sells products worldwide.