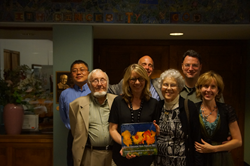 Bath OH (PRWEB) June 04, 2015
Awards were presented to two alumni, as well as one of the school's long-time supporters.
Elisa Drumm Van Auken, Class of 1980, received the Lincoln Gries Distinguished Alumni Award that is presented to an alumnus who has made an important contribution or given extraordinary service to others in some field, as a professional or volunteer.
Drumm was raised in a vibrant Akron home and is the eldest daughter of artists and gallery owners Don and Lisa Drumm, and sister of well-known glass and metal artist Leandra Drumm. She received her B.F.A in Textiles from the Rhode Island School of Design. She worked post-graduation in New York City as a colorist and designer for Gilbert Frank's Men's Wear division.
She found studio space in a timeworn mill and traded the sewing machines for power tools, developing a line of painted wood sculpture. Elisa has been a wholesale artist for more than twenty years. Today, Elisa designs, carves and paints limited edition wood pieces, including mirrors, clocks and furniture. She is influenced by early American folk art and the colors of the (beloved) American South West. The textures and patterns in the collection reflect her background in fabric design.
Her collection currently graces the walls of public libraries, homes, galleries, and museum stores across the country. She has shared her experience in the art and contemporary craft world through various publications and forums including Crafting as a Business by Wendy Rosen, Retailing Insight Magazine, Niche Magazine and the Arts Business Institute.
Rachel Rubin, Class of 1995, received The Peter G. Wilson Rising Star Award that is presented to an Old Trail School alumnus who graduated from the School within the last 20 years and has demonstrated professional and community leadership and exhibited appreciation for Old Trail School. This award is named in honor of Peter G. Wilson, former Old Trail School Headmaster.
Ms. Rubin loves being a librarian. She sees libraries as places of possibility: they inspire curiosity and discovery, community and civic engagement, reading and creativity, the asking of questions and the seeking of answers. Libraries empower communities and change lives. For ten years, she has worked as a public librarian, a manager, and now as a director. Over the course of her career, her focus has shifted from providing outreach and library services to ESOL communities, to management and organizational development. (Although it still makes her day when she gets to help patrons in Spanish.) She presents regularly on management and leadership development topics and is excited to be teaching her first graduate-level library management course.
Ms. Rubin attended Western Reserve Academy and Carleton College, where she received her BA in English with a concentration in Latin American Studies. She went on to Kent State University for her Master of Library and Information Science and to Simmons College for her Ph.D. in Managerial Leadership in the Information Professions. Her dissertation explored the impact of supervisor/ supervisee relationship quality on a type of organizational behavior known as Organizational Citizenship. She worked for the Worthington Libraries and Columbus Metropolitan Library before becoming a Library Director at Bexley Public Library in 2010.
Michael Hochschwender, President & Chief Executive Officer of The Smithers Group, Inc. received the Honorary Alumni Award that is presented to a person who has made an important contribution or given extraordinary service to Old Trail School.
Mr. Hochschwender assumed the duties of President and CEO of The Smithers Group in 1996 and under his leadership, Smithers has experienced tremendous technology diversification, geographic expansion, and rapid business growth both organically and through acquisition. Today, Smithers serves a global client base from thirteen facilities spread across North America, Europe and Asia.
A graduate of Tulane University and the Wharton School of Business, Mr. Hochschwender holds a Bachelor of Science in Biology and Environmental Studies and a Masters of Business Administration, with an emphasis on operations, finance and entrepreneurial management. Immediately following his undergraduate program, he spent five years in the U.S. Navy as a platoon commander for SEAL Team One in Coronado, California. After starting his business career, he continued serving in the United States Navy Reserve until 2008.
He is active in local health, civic and educational organizations. He currently serves or has served on the boards of Akron General Medical Center, Old Trail School, First Merit Bank N.A., the University of Akron Foundation, Ohio Foundation of Independent Colleges, Morgan Foundation, and The American Council of Independent Laboratories.
Mr. Hochschwender is the father of three Old Trail School graduates (Lane '05, Vicky '07, and Jake '10.) He served on the Board of Trustees from 2000-2009, and is currently a Trustee Emeriti and consistent supporter of the School.
The event also recognized retiring board members for their service, including Drew Forhan, Christine Grossman, Jonathan Pavloff and Andrea Powley.
Old Trail School is an independent, coeducational day school for students aged two through grade eight. Located in the beautiful Cuyahoga Valley National Park in Bath, Ohio, the School offers a personal, nurturing and academically challenging liberal arts program to students and families in a five-county region that emphasizes excellence in academics, athletics and the arts. For more information about Old Trail School visit oldtrail.org.