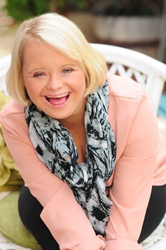 Milwaukee, WI (PRWEB) June 02, 2015
The Down Syndrome Association of Wisconsin (DSAW) is proud to announce Lauren Potter from the hit show Glee as the keynote speaker for its June 6, 2015 Down Syndrome Awareness Walk in Pleasant Prairie, WI. The event aims to raise funds to support programs and services for families in Racine, Kenosha, and Walworth counties.
"We couldn't be more excited to have Lauren join us for this important event," says Dawn Nuoffer, DSAW Executive Director. "She's a remarkably successful young woman who will share her story and, I'm sure, inspire us all."
The goal of the event is to raise $25,000.00 to support the creation of a new DSAW chapter serving the Racine, Kenosha and Walworth counties. Southeast Wisconsin has the highest rate of disabilities in the state.
"The funds raised will stay in our community and bring needed services like family support, education and even provide grants to families with a member who has Down syndrome as well as other disabilities," says Tammy Myers, co-chair of the DSAW walk.
New Hope
The night before the walk, on June 5, Lauren Potter will attend a special reception at the Racine Marriott Hotel where she'll also meet Desiree Andrews of Kenosha. Andrews, the DSAW Walk Ambassador, made national headlines in February when fans at a school basketball game made fun of her cheerleading. Her basketball team stood up for her. Lauren Potter is Desiree's role model, her performance as cheerleader "Becky Jackson" on Glee inspired Desiree to become a cheerleader. The two will meet for the first time at the June 5 event and walk together on June 6.
"These young women are a testimony to the success people with disabilities can have when they, and their families, have support," notes Nuoffer. "We're looking forward to a great turnout at the walk."
Media Opportunities
Pre event interviews:
Desiree Andrews and her family, DSAW Executive Director Dawn Nuoffer.
June 5:
Lauren Potter and Desiree Andrews meet at the DSAW pre-walk reception at the Racine Marriott Hotel, 7111 Washington Ave., Racine, WI 53403 between 6 pm and 7:30 pm.
June 6:
The DSAW Awareness Walk will be held at the Pleasant Prairie RecPlex. 9900 Terrell Terrace, Pleasant Prairie, WI 53158. 8 am registration, 9 am to 10 am walk. Lauren Potter will give a key note speech, Desiree Andrews will serve as Walk Ambassador.
DSAW Awareness Walk Details
Participants can register as individuals or teams at https://secure.qgiv.com/event/gmawalk.
Each team will raise funds through donations and sponsorships.
The family friendly walk is a 1.5 mile stroll through the Pleasant Prairie RecPlex. Registration begins at 8 am; the walk will take place from 9 am to 10 am. Post walk activities include face painting, tattoos, crafts, food, resource materials, raffle/ silent auction event and prizes for the top fundraising teams.
About the Down Syndrome Association of Wisconsin
The Down Syndrome Association of Wisconsin (DSAW) is an organization created for individuals and families affected by Down syndrome to offer assistance, create awareness and gain acceptance of Down syndrome throughout our communities. DSAW serves more than 4,000 individuals and families across Wisconsin.